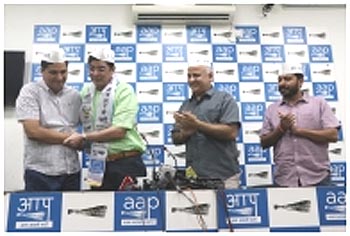 New Delhi, Sep 19: Ahead of the Assembly polls in Jharkhand, former Congress state unit chief Ajoy Kumar joined the Aam Aadmi Party (AAP) here on Thursday.

He quit the Congress in August, levelling serious allegations against his party colleagues. Although no official announcement has been made, the AAP may give some important role to Kumar in the upcoming Assembly elections in the state, as Delhi's ruling party plans to expand its presence in the country.

Jharkhand will go to the polls later this year as the tenure of the Raghubar Das government will end in December.

AAP leader and Deputy Chief Minister Manish Sisodia welcomed Kumar into the party in the presence of other leaders.

"I congratulate my friend Ajoy Kumar on joining the Aam Aadmi Party. We need people like Ajoy to change the politics of India and make it meaningful for the common man," Sisodia said.

"I have known him since the RTI movement and by the time Anna movement came, we became good friends. As he is joining the Aam Aadmi Party, from today, we will work as a family in the AAP," Sisodia said.

Sisodia said Kumar, having a MBBS degree and being a former Indian Police Service officer and MP, has served the nation in several capacities and was also the inspiration behind the Hindi movie "Gangajal".

Kumar, a former Lok Sabha MP, said the AAP is the only alternative in the current political situation and his aim in joining the party is very clear.

"Look at the current political situation, to counter this politics AAP is a strong alternative to it," Kumar said.

He said the migrants who come to Delhi from Bihar and Jharkhand are very happy with the policies of the AAP.

A former IPS officer of the 1986 batch, Kumar served as the Superintendent of Police in Jamshedpur (1994-96), after which he left the police service.

In 2014, he joined the Congress. He was appointed president of the Congress party in Jharkhand in 2017.