The general impression of Waqf (Endowment) Boards is that these institutions are reminiscence of past and in contemporary times, they have no relevance. However, Bihar state Shia Waqf Board appears determined to challenge the notion since Irshad Ali Azad took over as chairman in late 2015. The Azad's tenure is marked by a relentless campaign against illegal occupation.
Till now hundreds of crores worth properties have been recovered which includes Altaf Nawab waqf estate Patna, Md. Nadir Ali Waqf estate Patna City, Kalbe Ali Khan waqf estate, Ashok Rajpath, Patna, Khursheed Hasnain waqf estate, Kumharar, Patna, Bibi Habiban Waqf estate Muzaffarpur, Mahmudunnisa waqf estate, Motihari, Imam fazal Shopping Complex, fraser Road, Near Dakbanglow, Patna.
These properties are either being developed according to the social requirement of the locality or, are being leased for the purposes of school, religious seminary, hospitals, recreation centre, library, banquet halls, residential plots, shopping mall, show rooms etc. As income is growing, the Board is venturing into new avenues of community services like, giving monetary assistant to vulnerable sections, scholarship of students, ambulance service etc.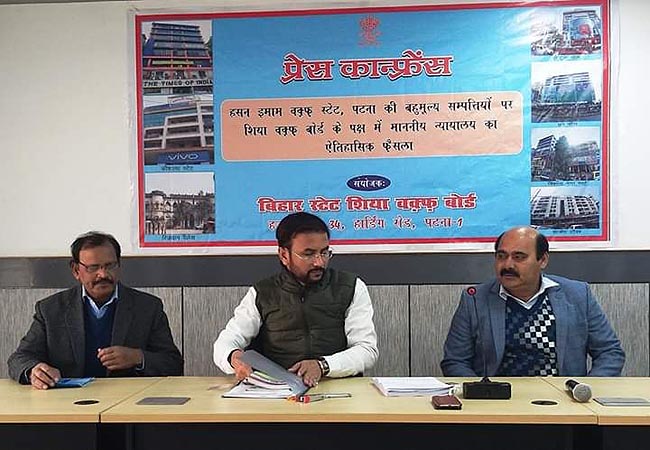 Bihar Times' Shams Khan spoke with Irshad Ali Azad to know more about the Shia Waqf Board's accomplishments and plan ahead.
Shams: What motivated you to go after the illegal occupant?
I. A.Azad: The properties which belong to waqfs were gifted for the purpose of welfare of economically weaker section of the community, but majority of these properties are not serving the purpose as, it's under the clutch of illegal occupants. In most of the cases, the caretakers of the properties have been either treating them as personal properties or have illegally sold them to someone else.
As I took oath I realised that if I have to perform my duty honestly, I must get all the illegally occupied properties back to the fold of waqfs. I feel a sense of satisfaction whenever we regain control on such asset.
The Board is pursuing around 525 legal cases and we have been getting recovery updates on daily basis.
Shams: There were media buzz last year related to Shia Waqf Board's claim on prime properties located in the vicinity of Dakbanglow, Patna. Where does it stand?
I.A. Azad: Those reports were related to the court's decision on the title suit of Hassan Imam Waqf Estate in Shia Waqf board's favor. On the very plots of Hasan Imam Waqf estate, Patna Central Mall, One mall, Kaushalaya estate, Imam Fazal Shopping complex, Vishal Mega Mart, Rizwan Palace, Saket Tower, Times of India building etc. exist. The case has progressed a lot.
Shams: Why people who were previously at the helm did not show the similar zeal to recover the properties?
I.A. Azad: To pursue these cases is a dangerous affair as it amounts to taking legal actions against land mafias, anti social elements and well connected powerful people. This could anytime turn into a personal enmity. In fact, both Senior Superintendent of Police and C.I.D reports points out that there is threat to my life and the administration has accordingly increased my security. Under these circumstances it is a risky pursuit to proceed with these cases. Perhaps people you mentioned were not prepared to put themselves in such uncomfortable situations.
Shams: Do you think that strong waqf tribunal and the provision of criminal cases against the illegal occupant have helped you in your pursuit?
I.A. Azad: Certainly, the waqf tribunal is very powerful as well as Waqf Act 1995 Sec 51/56 clearly laid out that, "once a waqf, always a waqf". Moreover, Supreme Court ruling have made it further evident: 'properties that belongs to waqf can neither be sold nor be transferred'. The provision of non bailable criminal case (52 A) has been added in 2013 via an amendment.
These are strong enough provisions which ensure that law is on your side when you are firmly determined to recover the properties.
Shams: There are land plots that the court has decided in the favor of Shai waqf board. They have shopping complexes, residential complexes, Malls and other full-fledged structures. What practical solution do you have considering that huge money have been invested on these plots?
I.A. Azad: We want Waqf Board's land right accepted in these cases and the properties you mentioned are bound to come under the legal provisions sooner or later. We are considerate towards those whose interests as a renter, or as an investor, or as a developer involved. But they must understand that waqf properties are public properties and the only way it can be acquired through is, maximum 30 years lease. We are prepared to accept them as our leasee. It must be made clear that we are also bound by laws that leave us with no option but to explore the solutions within its ambit.
Shams: What is your plan ahead?
I.A. Azad: Gradually, as the waqf is gaining possession on more and more assets, we are able to broaden the scope of the welfare activities. For example, the Board has decided to allocate 60% of the total 1.6 crores income from Imam Fazal Complex as scholarship to the students who are pursuing vocational courses. While cutting across community line, 400 plots have been allotted on lease to the economically weaker section of the society. We are also providing monetary assistant to handicapped and for the marriage of girl. But these are tiny interventions compared to what we can do with all the assets at our disposal. Our aim is to emerge as a most resourceful institution after the Bihar government so far as taking up poverty alleviation and other related schemes are concerned.