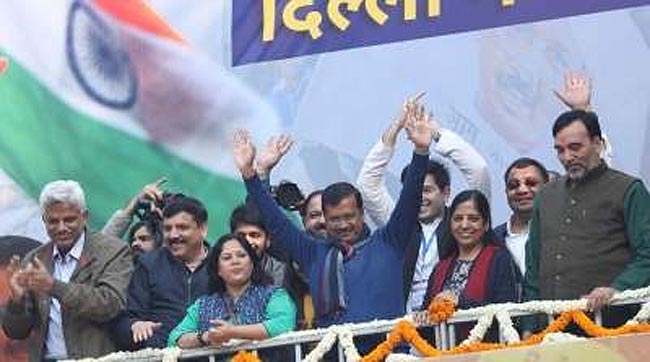 New Delhi, Feb 11: Arvind Kejriwal has pulled off a spectacular win in the Delhi Assembly polls. His Aam Aadmi Party (AAP) is set to win 62 seats. While the AAP has termed it a victory of 'good governance', the Opposition sees it as an outcome of freebies announced by the AAP.

But from where Kejriwal got the money to splurge? A smart 'baniya' that he is, Kejriwal prudently used Delhi's healthy finances to achieve his political goals.

According to the government records, from the Rs 1,051 crore fiscal deficit in 2016-17, Delhi turned into Rs 113 crore surplus state in 2017-18, which was 0.02 per cent of the gross state domestic product (GSDP).

"The Delhi government maintained primary surplus between 2014-15 and 2017-18. It increased 62.88 per cent to stand at 0.43 per cent of the GSDP in 2017-18," said the CAG report.

The national capital territory (NCT) of Delhi had surplus revenue in the last five years. It declined 2.59 per cent in 2017-18, but stood at 0.72 per cent of the GSDP.

"Against total provision of Rs 49,202.08 crore in 2017-18, an expenditure of Rs 41,159.42 crore was incurred, resulting in Rs 8,042.66 crore savings," said the CAG report. It was a 16.35 per cent saving.

With these figures, Delhi has been envy of many states and it gave Kejriwal enough elbow room to give "free electricity".

In December, Kejriwal tweeted, "Five years of increased expenditure on schools, hospitals, water and power -- all this while maintaining surplus revenue and improving Delhi's fiscal health. This was possible because Delhi has a non-corrupt govt, which uses every paisa of taxpayer on public welfare."

In an interview with IANS, he claimed end of corruption for his success. In fact, Kejriwal had come to public life seeking to end corruption.

The Delhi Chief Minister claimed his 'bijli, pani, swasth and shiksha' template was not based on subsidy, but by saving money by rooting out corruption from the system.

Not only a bania, Kejriwal is also a cocktail of a mechanical engineer, which he pursued as IIT-Kharagpur student, and his stint as taxman before deciding to become a social activist.

Hitting out at opposition, Kejriwal said, "The Gujarat Chief Minister spent Rs 190 crore on a new aeroplane, I used Rs 190 crore to make water and power cheap."

Economist N.R. Bhanu Murthy, a faculty at the National Institute of Public Finance and Policy (NIPFP), has an interesting take.

"See all that Kejriwal does are not necessarily freebies. For instance, 24-hour power or water are also part of his politics, but it doesn't cost him money. This is basic governance. Kejriwal has done a lot of things without incurring cost, which may or may not be perceived as freebies."

And when the country was losing sleep over 'biryani', Kejriwal used his 'bania dimag' to distribute the fruits of a surplus economy and win another full term as the Chief Minister.