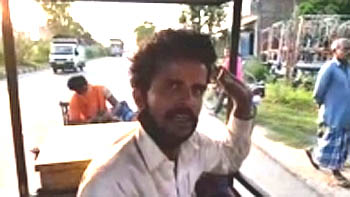 Gopalganj, May 12 (IANS) A story of courage and humanity unfolded in Gopalganj, Bihar, where two differently abled migrants came cycling from Delhi and Mumbai amid the lockdown. When both of them didn't get any government support, they supported each other to reach their destinations.

28-year-old Praveen Kumar, a resident of Ghaghra panchayat of Bakhari block of Begusarai in Bihar, moved to Delhi in 2012 when he did not get a suitable job at his native place and started working in a factory where bags were made. When the entire nation was put under a lockdown following the Covid-19 pandemic, he also started feeling the pinch. He was helpless with neither money in hand nor food to eat.

He said, "Neither the lockdown was getting over nor were there any resources to return to my village. Amid all the difficulties, I decided to cover the distance of 1,500 kilometres on a tri-cycle. I left Delhi eight days ago and reached the Uttar Pradesh-Bihar border on Sunday."

He finally saw a ray of hope after reaching the border as the authorities told him they will send him to his village by bus. But soon that hope vanished as no one helped him in boarding the bus and the bus left in front of him.

Despite this, Kumar did not give up and left for his destination on his tri-cycle. He said, "When I reached Konhwa mod of Gopalganj, I met another person with a disability who was coming from Mumbai and he extended a helping hand."

Madan Shah, who lost the use of both his legs due to polio, used to sell tea in Mumbai.

Shah said, "I will go to Bahera village of Darbhanga. I was left with nothing in Mumbai amid this lockdown as my tea stall had to be closed. Since there was also the fear of getting infected by coronavirus, I decided to return to my village on my motorised tri-cycle. On my way back, for several days I didn't even get food. I only got food in these eight days when someone gave else I covered this distance by drinking water only."

On the reason behind migrating to another state, Shah said the state government didn't help which is why I had to migrate to Mumbai. However, he is proud of himself that despite being disabled he was able to help someone in need.

After speaking to IANS, Shah tied a rope to Kumar's tri-cycle and towing him both left on their journey to their native places.