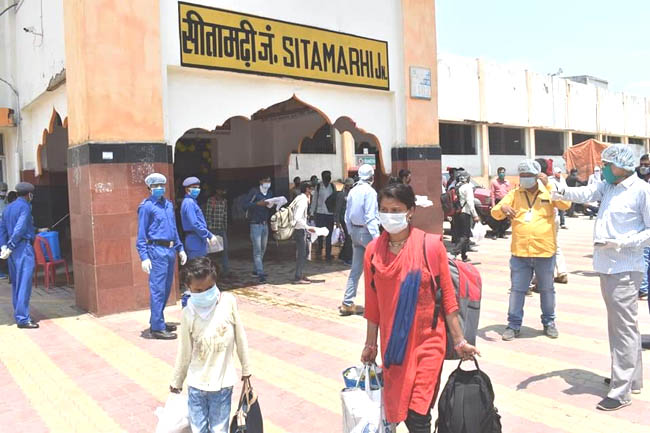 New Delhi, May 20; While hundreds and thousands of migrants on foot has been a humanitarian crisis that the government scrambled to solve through arranging buses and Shramik Special trains, the ramification was more grave.

With millions of the migrant workers missing from cities, not only the industrial units are facing a worker shortage but states like Uttar Pradesh, Bihar where migrants reach back in hordes are apprehensive of a spike of COVID-19 cases.

Maharashtra has been the worst affected state in India and Mumbai being the economic powerhouse, it employed a bulk of the workers. Post shutdown, many of these workers left for home in Uttar Pradesh, Rajasthan, West Bengal and Bihar.

But after late April relaxation followed by a reprieve in lockdown 4.0 industrial units are allowed to function across India, save the containment zones. But states like Maharashtra are facing an acute worker shortage.

Addressing the state through a webcast this Monday, Maharashtra Chief Minister Uddhav Thackeray accepted, "With migrant workers going back to their states, there is shortage of labour in the state." He adde, "I want to specially urge the sons of the soil to come forward to grab employment opportunities in the industries in green zones to rebuild Maharashtra."

The situation is not very different in Delhi, Gurugram, Noida, Ahmedabad or Bengaluru that are staring at a shortage of workforce. As Narendra Modi started talking of the need to balance the economic churning with saving lives, Karnataka CM BS Yeddyurappa foresaw that workforce crunch, particularly in the states's real estate sector.

After Yediyurappa met builders and called for resumption of construction and other industrial activities, he urged the migrants not to leave the state. "I appeal to labourers with folded hands don't pay heed to any rumours, it is the responsibility of the government to see to it that you get work at the place you were working don't take a hasty decision of going to your natives. Stay here and work, as in the past," he had said.

He even tried to block trains drawing huge criticism. But all his actions are believed to have been guided by his prediction of the workers shortage.

And now most industrial units ready to start afresh and migrants who reached back their home states after much hardship determined not to return, at least for a while, the idea of kickstarting the economy has taken a bad hit.

Meanwhile, that is not the only casualty India's migrant crisis has given birth to. With a rising number of migrants reaching back home states, particularly into states like Uttar Pradesh, Bihar, Odisha and West Bengal from COVID-19 hotspots, those states are apprehensive of a second spike of positive cases.

For instance, Uttar Pradesh Deputy Chief Minister Dinesh Sharma told the media that so far above 10 lakh migrants have reached UP through 900 special trains and another 6 lakh migrants through 12 thousand buses. A whopping 16 lakh have already entered Uttar Pradesh, many of whom have come from Maharashtra, making the state cautious.

As of Tuesday, as many as around 50 migrants have been reportedly tested positive from one district of Uttar Pradesh alone - Banda. The Chief Medical Officer (Lucknow), Dr Narendra Agarwal has been quoted in the media saying the cases are likely to rise owing to the problems in contact tracing of the migrants. And here, we are talking about more than 16 lakh migrants.

In Bihar, if random tests are anything to go by, the situation is no less worrying. Bihar's principal Secretary (Health) Sanjay Kumar tweeted a data showing out of all the migrants who have been randomly tested, 8 per cent have been found positive. This is double the national average rate of positive cases. Experts believe more comprehensive tests among incoming migrants will result in further spike in positive cases.

Meanwhile, Odisha which was credited in tackling its situation saw detection of 102 new cases on Tuesday. Of the 102 new cases, 97 persons had returned from other states. State officials on the ground suspect this is a pattern that points the finger towards the migrant crisis.

While visuals of hapless migrants walking on foot, fighting for food made India think it's just a humanitarian crisis; the truth is it has brought the nation's economy to a position of delayed start and health scare in the states they are returning to.