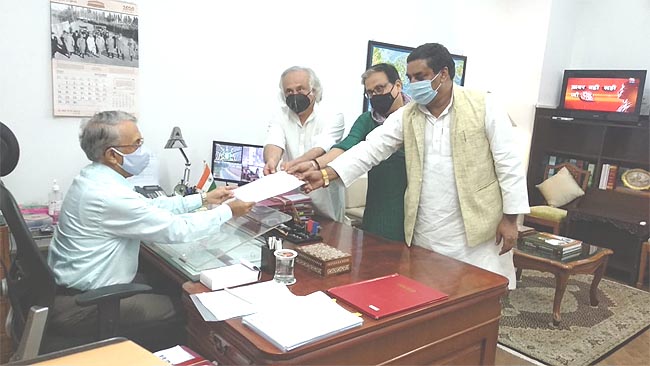 New Delhi, Sep 11 (IANS) With the post of Rajya Sabha Deputy Chair set to witness a contest between two leaders from Bihar on September 14, RJD leader Manoj Jha on Friday filed his nomination papers for the electoral battle.

The 'Bihar vs Bihar' contest gains significance as the eastern state is expected to go for Assembly polls later this year and the ruling Janata Dal-United and Rashtriya Janata Dal led alliances will flex some political muscles in the run-up to that contest.

Jha was accompanied by Congress leaders Ghulam Nabi Azad, Ahmed Patel, Jairam Ramesh, and DMK leaders, apart from Samajwadi Party MP Javed Ali.

Jha said: "This election is not about individuals, but to send out a strong message to the ruling party that, please, start listening to the opposition."

If one goes by the caste politics played out in the state, both Jha and NDA rival Harivansh Narayan Singh are from the upper castes, the traditional BJP supporters. However, the scenario may also create a split on caste lines as Jha hails from the Brahmin community while Harivansh is a Rajput. While Jha is an academician, Singh is a former journalist.

The opposition sources said that 12 parties have committed to support Jha's candidature, even as the arithmetic does not favour the opposition in the Upper House. As against 123 votes required to win the post, the opposition can count on only 95, that too if the Aam Aadmi Party and the Bahujan Samaj Party support Jha.

The Congress wants the election to be an 'opposition versus government' battle and not a 'Congress vs BJP' contest, so as to unite the opposition and corner the government in the Upper House, where the ruling alliance now has the upper hand.

Janata Dal-United leader and Bihar Chief Minister Nitish Kumar had had a word with Biju Janata Dal leader Naveen Patnaik for support to Harivansh.

The election to the Deputy Chairperson's post will be held at 3 pm on September 14, the day the Monsoon Session of Parliament begins.

The post fell vacant after JD-U MP Harivansh Narayan Singh's term in the Upper House expired. He has since been re-elected as member of the Rajya Sabha from Bihar.