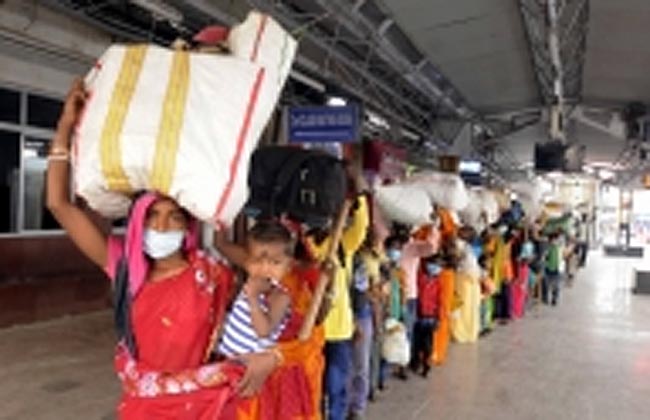 New Delhi, Sep 15 : The central government has no provision for compensation or economic assistance to the families of migrant workers who died on the journey back to their hometowns during the over 60-day lockdown across the country amid the Covid-19 crisis, the Union Labour Ministry informed the Lok Sabha in a written reply on Monday.

The response came during the opening session of the Monsoon Session which started on Monday with 18 sittings till October 1.

In his written reply to Unstarred Question 174 on 'Migrant Workers returning to Hometown', Union Labour Minister Santosh Kumar Gangwar said "No such data is maintained" when asked whether the government is aware that a number of migrant workers lost lives during their return to their hometowns and if so, the details of the same, state-wise.

Responding to the next question on whether the government has provided any compensation/economic assistance to the victims' family and if so, the details thereof, the minister said "question does not arise". On another question on whether the migrant workers returned to their homes by walking due to no arrangements by the Union government in time, Gangwar said "the Indian Railways has operated more than 4,611 Shramik Special trains for convenience of the workers".

The minister said more than 63.07 lakh migrant workers have been shifted to various destinations located in Uttar Pradesh, Bihar, Jharkhand, Odisha, Madhya Pradesh and other states. Food and water was also provided free of cost to the workers during their journey, he said. Gangwar responded to the question raised by Indian Union Muslim League (IUML) MP Kani K. Navas, Congress MPs Adoor Prakash and Balubhau alias Suresh Narayan Dhanorkar.

The government's response on the first day of the Monsoon Session gave a chance to the opposition to criticise the government with Congress leader Rahul Gandhi slamming the Centre, tweeting "the Modi government does not know how many migrant labourers died and how many jobs were lost during the lockdown. If you haven't counted, have the deaths not taken place? It is sad that there has been no impact on the government".

In his tweet in Hindi, Rahul further said: "The world has seen their deaths. There is a Modi government which has no information." Senior Congress leader Digvijaya Singh said it was a "shocking" reply and said "sometimes I feel we are blind or the government feels it can take everyone for granted".

Lakhs of migrant workers took to the roads to go back to their villages from various cities across the country, walking hundreds of kilometres after Prime Minister Narendra Modi on March 24 evening announced a countrywide lockdown to contain the spread of coronavirus. The migrant workers started walking back to their homes as they lost their jobs in cities due to the lockdown and were left with no option due to lack of money and food.