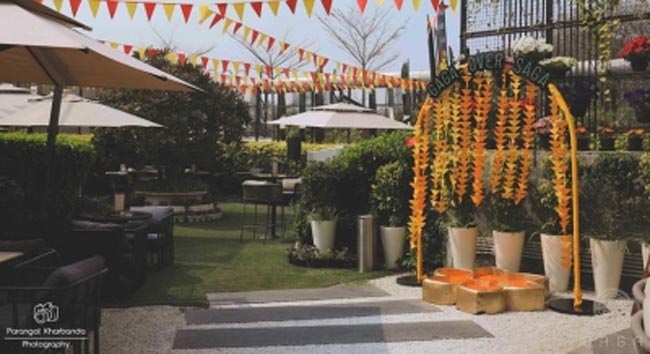 New Delhi, Feb 24 (IANSlife) Celebrates Bihar & Jharkhand cultural traditions through food, handicrafts, and performances as Bihar Tourism joins hands with Gurugram-based Premium Modern Indian diner, SAGA for 'The Unsung Magadh'. This festival is the second chapter of 'The Great Indian Platter', a series dedicated to exploring and unearthing the rich food heritage of different states of India.

The festival menu has been curated by Head Chef Kush Koli, under the guidance of Michelin-Star Chef Atul Kochhar and Founder of SAGA, Vishal Anand, who both have deep roots in Bihar as their common birthplace.

Bihar has remained the seat of an ancient civilization. Its history dates back to the very dawn of human evolution. It is the melting pot of all the prominent religions, the land of enlightenment for Gautam Buddha and Lord Mahaviraand the birthplace of Guru Gobind Singh JiMaharaj. It is the place where the world's first democracy was born. The region has much unsung history when it comes to its culinary journey.

Sharing thoughts on the association, Abhay Kumar Singh, IAS, Secretary, Department of Tourism, Government of Bihar said, "The Great Indian Platter is a beautiful initiative by SAGA to promote the diverse regional cuisines and cultures that are lost in time. Bihar Tourism in association with the SAGA, Gurugram is making all-out efforts to actively encourage the culture, heritage, and cuisines of the state. It is a vision of our Hon'ble Chief Minister that every Indian thali should at least have a dish from Bihar in its serving. We are hopeful that this initiative shall indeed win the taste buds of everyone and will make them connect with Bihar's Culture and Cuisine."

The culinary adventure will be enhanced by elements of live bands, chat shows, and other Performances.

Highlighting the festival, Founder and CEO of Moonshine Food Ventures, Vishal Anand said, "Each State of India is such a treasure in food & culture that I feel truly honored getting an opportunity to curate & present a series on them. Bihar is one Unsung hero. I hope, through this festival, we are able to take some steps towards bringing back the glory that the State truly deserves".

SAGA - Vatika Atrium, Golf Course Road, Sector 53, Gurugram

For Reservations: 7669913882, 7428922300

The Unsung Magadh: Food Festival of Bihar & Jharkhand - February 18 to March 5

12:00 noon to 1:00 a.m.