Patna, Jan 18 (IANS) The RJD's top leadership on Wednesday issued a show cause notice to former state minister Sudhakar Singh for his objectionable remarks against Bihar Chief Minister Nitish Kumar.
The decision was taken by the party's disciplinary committee and national president Lalu Prasad Yadav.
Sudhakar Singh has to reply to the notice within 15 days.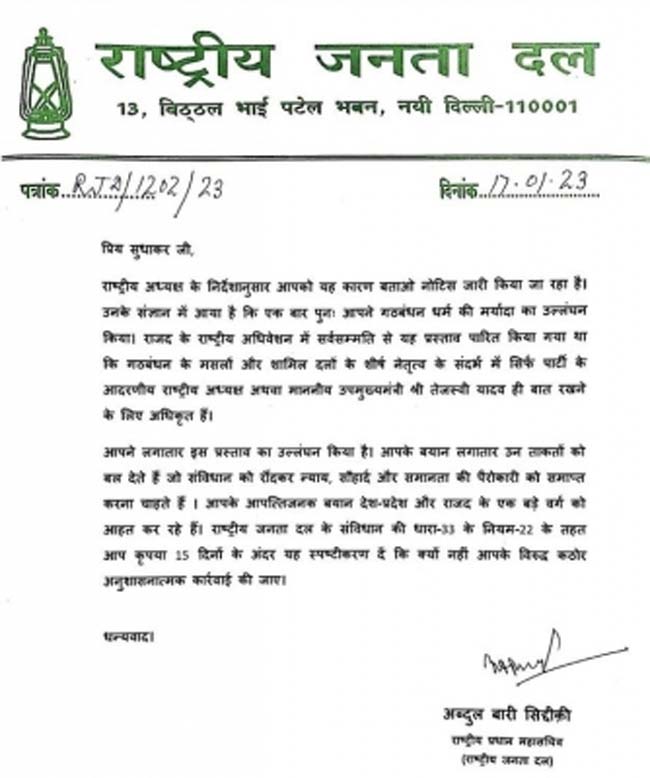 Confirming the development, Abdul Bari Siddiqui, the national general secretary of the RJD, said that whatever Sudhakar Singh had said against the Chief Minister was not right.
"It has put an adverse effect on the party. Hence, the party's disciplinary committee and national president Lalu Parasad Yadav have issued the show cause notice to him and directed him to reply within 15 days.
"During the last executive committee meeting of the RJD in New Delhi, it was decided that any statement on the top leadership of grand alliance partners would be done only by Lalu Prasad Yadav and Tejashwi Yadav. Still, he had given the statement against the chief minister," Siddiqui said.
Sudhakar Singh had used words like Shikhandi, night watchman and beggar to attack Nitish Kumar, triggering strong objection from the JD-U.
Upendra Kushwaha, the national president of JD-U parliamentary board, had warned Tejashwi Yadav to control his legislator.