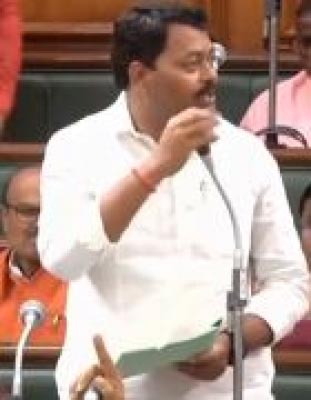 Patna, March 14 (IANS) Bihar Assembly Speaker Awadhesh Narayan Singh on Tuesday suspended BJP member Lakhindra Paswan for two days for "breaking the microphone" in the house.

Following the Speaker's decision, BJP legislators held a sit-in protest outside the Assembly and decided not to participate in the proceedings during the suspension period of Paswan.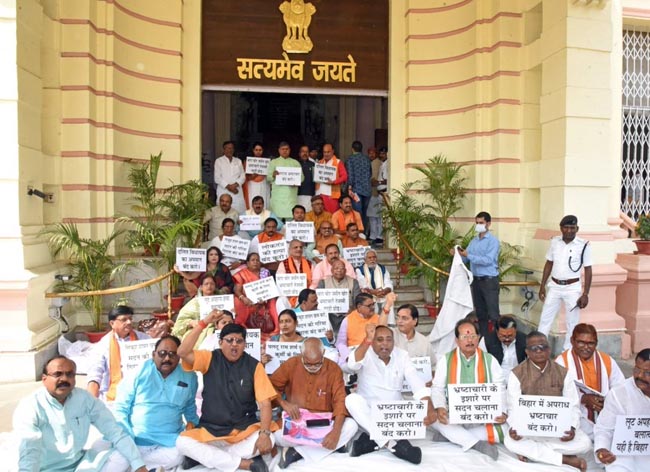 Leader of Opposition in Assembly Vijay Kumar Sinha accused the ruling party of "murdering democracy".

"Our MLA had asked the third supplementary question pertaining to the respectful salary of Sevika and Sahayika and scholarship for the SC/ST students... the CPI-ML MLA intervened and the Speaker alleged that Paswan had broken the microphone. On this charge, he had also suspended him from assembly proceedings for the two days. The act of the Speaker is undemocratic. The Speaker has not taken action against the CPI-ML MLA as he is in the ruling alliance," he said.

"The CPI-ML MLA has used unparliamentary language inside the house and he also went towards the Speaker's podium to threaten us. The entire country has watched his act but the Speaker did not take action against him," Sinha added.

Paswan, meanwhile, denied the allegations. "The screws of the microphone were loose and it came out on its own. I have not broken the microphone."

"The ruling RJD MLAs abuse us inside the house. We are not coming to Vidhan Sabha to listen to their abusive words. When we raised an objection over the act of RJD MLAs, the Speaker accused me of breaking the microphone," he said.

"Whenever we stand on the seats to point out issues, the Speaker mutes the sound of our microphones. We have urged the Speaker to look at ruling and opposition legislators with the same view," Paswan added.