| | |
| --- | --- |
| | Lalu Prasad Yadav's recent announcement could be a game-changer in Nitish Kumar's Bihar. The Rashtriya Janata Dal (RJD) boss sprang a surprise during his tour of the state when he announced that his party was not averse to an upper caste chief minister. |
The upper castes in Bihar have long been marginalised by Mandal politics which has resulted in 27 per cent job reservation for OBCs. Nitish apparently sensed the growing backlash against this quite early and unseated Lalu with the help of the BJP that largely represents the state's upper castes.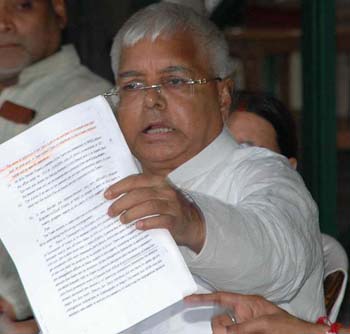 The RJD supremo is on a yatra now, like Nitish, touring the state to establish fresh rapport with the people who trusted him for 15 long years before voting him out ruthlessly. After consecutive defeats in elections and desertion of a large number of his supporters to the Janata Dal (United) left him high and dry, Lalu was rendered politically inactive in the state for many years. This time, however, he has been emboldened by the turnout at his political meetings.
In that sense, Lalu is trying to do to Nitish what was done unto him. The Mandal wave did consolidate not only OBCs but even minorities and dalits under the Lalu banner but also made for a tempting target for Nitish, who targeted and won over a large chunk of EBCs (Extremely Backward Castes) by giving them reservation in Panchayat elections. Similarly, Nitish created a new category of dalits, calling them 'Mahadalits', who were entitled to much government largesse.
"The process of social justice is now over and state has moved into an advance orbit that demands economic justice. And the course of political agenda is fast shifting towards it; so now Lalu didn't have any other choice," said R N Sharma, Professor of Sociology, Patna University.
But the larger question is: can Lalu ride this new horse to victory? Or will he, like before, succumb to the kin-based politics that went with his downfall?
This article was also published in the Sunday Standard.
comments powered by