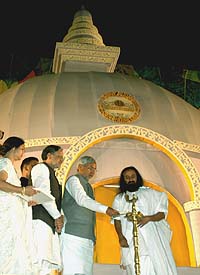 Spiritual guru Sri Sri Ravi Shankar finally touched the ground of Patna by Sahara flight on Wednesday afternoon to kick off his four day "satsang" tour organized by the local chapter of Art of Living. Ravi Shankar even has been accorded the honour of state guest and so all the paraphernalia and hundreds of upmarket, anglicized, a la mode kind of devotees greeting each other phonetically with Jai Gurudeo behind him.
But, somewhere in the melee Patna which is yet to come out of its "most poor and backward state of the country" gazed, stood still and choked through lungs before Ravi Shankar could start lessons of his trademark Sudarshan kriya.
For a persona like Sri Sri---the more you affix the more closer you may sound to the Guruji---Ravi Shankar Patna is too small, poor and humble a place to bear his oversized burden of whiffing black beard and white silky smooth drapes.
Patna simply looked bemused with all what has been going on for the advent of the spiritual guru for the last one week. The hoi polloi of the city appeared wide-awake, abashed standing by the extreme side of the road, corner of the street and at the last end of the lanes.
Watching the scene with their mouth agape they simply failed to comprehend who the man was coming, for whom and for what?
All the modish devotees in their chic get-up, up market profile and merry-making etiquettes looked larger-than-life image for the common, daily working people of Patna.
Huge standing cut-outs of the spiritual guru inviting people "…Aap bhi jaroor aana ", billboards, hoardings displaying his programme and of course, the local AoL media management all too came beyond the ken of common men of the capital. A Guru who moves every bit of his steps through SMSaging. And, that too not once or twice but sent thrice at times.
It simply failed to deliver.

Spiritual Guru appeared more like a Corporate Guru for the commoners of the city. Many of the vacant red plastic chairs on the first day mahasatsang reflected how shaky and scary they felt to turn up.

Over 65 local artistes were reportedly hired to perform at the function. A huge replica of Lord Buddha's Shanti Stupa at Rajgir covering an area of 3000 square feet has been erected by the artistes hired from Kolkata for the Guru. The total camp area covers 5.6 lakh square feet at the historic Gandhi Maidan of Patna.
Altogether, 10 large projection screens, two special LCD screens fitted with special digital sound effects and 44 toilets have been set up at the function site. Over 100 musicians are expected to perform on the stage along with the guru.
What is spiritual in all these corporate classification--- the humbler Patnaites wondered!
Spreading message of peace and love… learning lessons of how to chant OM costs the city dwellers and laborers minimum Rs 100 per head and for the students the charge is Rs 600. However, for those who look earning their bread and butter fee varies from Rs 600 to Rs 5,000.
Learning simple things of live at such a high costs? Commerce costs faith dearly at Ravi Shankar's satsang, many believed.
Art of Living or Art of merry-making !!
"Where is the place for us? He is a guru exclusively available for those who have money in their pockets", wondered Ashok Kumar, a paper hawker struck in the traffic jam when Ravi Shankar's car caravan was zooming past on the squeezed streets of Patna.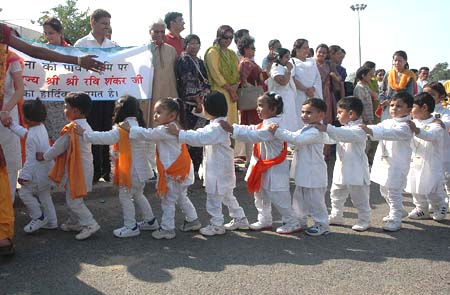 Pix: Manish Sinha
To welcome the Guruji some school children all in white dress and red bands across chest with bouquets and single roses in hand were lined up at the Patna air-port but as soon as the Swamiji descended his overzealous devotees and Jai Gurudeo chanting followers made a mad rush towards him. Sri Sri with his waiving hands and flowing beards just entered into his car and whirred past from the spot leaving the little children to be caught and trapped in the chaos thereafter.
Sri Sri got the innocence injured at the air-port itself---- or, at least it looked so.
The school kids later were seen ruing their fate and some were even on the verge of shock.
Art of Living. They call it AoL for convenience.
Earlier, to make the visit of their Guru on a wider canvas some model-like girls and chic, polished women danced and made Dhoom-3 to the inscrutable tunes of the satsang on the streets of Patna.
Patnaites again felt out of place, alien and so far from the programme and the Guru coming to their city.
This Sri Sri is not like Baba Ramdev. He is for people who walks in the morning, chats in some elite hotel coffee house and spend nights in the cosy, air-conditioned bed rooms. Ramdev is for poor people like us.

Doesn't AoL sound unfamiliar, anglicized? He is basically for the English-speaking people with cool dress and sugar-free tea, said marketing executive Rajesh Sinha.

A senior journalist quipped that whatever Ravi Shankar teach in the name of Sudarshankriya to the people has been all through our life and there is nothing new in it. "He tries to mesmerize people following the footsteps of Acharya Rajnish and his concepts of merry making", grudges he.

Patna is not ready to welcome such a big Guru yet… only the Abhishek-Aishwarya Rai starrer Guru seemed to be welcome here.

Comments...
It is not even important if Patna is ready for Sr Sri or not. Sri Sri seldom says any extraordinary thing in his lectures. He is a pure media hype. Top of it all, We know the art of living. We just have to look within and try to be good humans. So, no Babagiri alright!!!

Santosh Singh, Patna
santoshsanjay@gmail.com
-----------------------------------------------------------------
I agree with author's subject comparing even journalists are not ready to welcome spiritual guru with positive note. Comparing Sri Sri's AOL with money and classifying it a high society's organization is not fair.
I would have been more than happy if author spread the good work done by Sri Sri rather than comparing him with Rajnish and Baba Ramdev for no reason. I have attended Sri Sri's camps and I didn't find anything which has been written by author except the money part. At money part it has not been mentioned that AOL do not charge for poor. I personally know many of the guys in Naxalite affected areas of Aurangabad district came on track by getting attracted with AOL. Please put the other side of story and good work done by Sri Sri.
Patna still not ready to accept positives of a spiritual guru and still looks at the negative side of the story.
Sarvesh
Bangalore
sarveshk@gmail.com
-----------------------------------------------------------------

Marketing Spirituality
I agree with Mr Tewary's humble observation. Gone are the days when seekers used to travel miles to 'seek' spiritual awakening under the guidance of enlightened master(s). Fortunately, India has had a long tradition starting thousands of years back of having spiritual giants like Gautama Buddha, Mahavira, Gorakhnath, Kabir, Ramakrishna Paramhansa, Ramanna Maharshi and so on…who shaped our soul.
They never needed glamour or showmanship to preach spirituality.
But in today's competitive market you need to sell hard. So we started macdonald'izing our spiritual heritage. Many babas and shri shris sprang up all over India. Thus came Astha and Sanskar and what not. It became a hot field to be in after few extraordinary success stories of few spiritual gurus (Yogis and Bhajans and so on) in the west.
For most of our current generation who has no (or little bit of their own vague) idea of what spirituality is? It has become more or less a class symbol. Just like what brands of costume you wear may determine which baba or maharaj is your guru.
And they need to cater to our needs (doesn't matter whether it is genuinely spiritual or not).
The ground work was done by the gurus in 70s and these current babas are just doing 'copy paste'.
Bollywood has definitely influenced all aspects of Indian life.
Anurag Choudhary
a.choudhary@intsch.se
-----------------------------------------------------------------
Before Time
I quite agree with Sri Amarnath Tewary but with a different perception. Three things come in the life of a person .
FIRST. Physical existence i.e. the person should be able to physically exist with reasonable health etc.
SECOND. Intellectual existence. i.e. the person should be able to understand things , see correlation between and among different things, should be able to apply knowledge and intelligence for the benifit of solving problems , his own , society's and of the country.
THREE. Spiritual existence i.e. the person should be able to understand and then realise and practise spirituality in life for peace inside and outside..
Three is relevant only after First and Second have been assured to and achieved by the person .
As it stands the people of this state ( and for that matter of the country ) are still passing through the FIRST stage at best longing for the Second. Stage Three is far far away.
Gold is better than silver. Diamond is better than gold. But how does Silver , Gold and Diamond relate to a person who is still struggling for brass.
To sum up Sri Sri Ravi Shankar Jee and his Art of Living is an arrival Before-Time .
Once again I agree with Sri Tewary and honestly speaking I also realise that my perception is not basically different from his.

Keshav Prasad
prasadkeshav@yahoo.com
-----------------------------------------------------------------------------------------------
Well said Mr. Amarnath Tewary. There is nothing new in AOL except packaging & marketing. This is for the lost generation of elites who want quick fix for all their problems. There are many better ways of helping poors. Learn from Edhi foundation in Pakistan and Grameen bank in Bangla Desh.
Dilip Mahto
Burlington, ON, Canada
dilipk_mahto@yahoo.com
---------------------------------------------------------------------------------------
Once I got in the net of Ravi Shankar, a money making organisation.

My wife & I were charged fee $600.00 including Goods Services Tax but got no receipt. Where this money going ? They are not paying tax anywhere. Truly, they are Guru.

Why don't they teach poor if they say it (Art of Living) is very good.

Tax man should get on so called sri sri Ravi Shankar, the Modern King.

M Verma
Australia
mnverma_adsl@hotkey.net.au
---------------------------------------------------------------------
Gurujee will be welcomed here, as he is spending his money , but may not be acceptable to Patnites, where the average person is struggling for his existence .
The ART OF LIVING can wait till the society has learnt the art of existence.
Batu K. Dutt
Vancouver, BC Canada
batudutt@hotmail.com
------------------------------------------------------------
-Go look at the work AOL has done in tribal schhols in South Bihar. (www.careforchildren.org)
- Do you know that 10000 naxalites have already surrendered in A.P.
- Do you know that more than 50% of inmates of Tihar Jail have done the AOL course
-You probably do not know about the work AOL has done in Tsunami
..........and there is much more

This article is a very one sided view of things.
Aashish Akhouri
aashish.akhouri@gmail.com