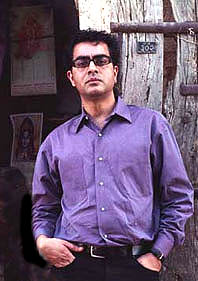 As an author originally from Bihar how do you see the present state of the state--- earlier described by many of the writers and journalists where civilization ends?
No, I don't. Like most other places, placed marked by all sorts of contradictions, Bihar is a complex place that cannot be reduced to ready stereotypes.

Does Bihar today suffer from severe crunch of writers or if one has to establish himself as a novelist like you and others, he has to move out from the state---what do you think?

One of the lines I have used in my novel comes from the actor Om Puri. He says, "hamare yahn iraadon ki bhi kamee hai." we don't lack ambition in Bihar, however; it's just that there aren't always the means, or even the environment, to turn vague yearnings into real achievement.
If Bihar can be a fertile field for all the expository, narrative, descriptive or for that matter, persuasive ingredients for one's imagination invention in the plot why can't it be a place for the writers permanent address?
I can only answer for myself and not others. I'd like to live in India permanently but perhaps not in Patna. I think I'd like Delhi or Bombay better only because I think my writing would need to be in conversation with a more thriving art scene than is currently available in Patna.
For a writer how easy it is to sell Bihar outside bihar? Your comment.
Aapke sawaal mein shaayad aalochana bhi hai. I don't think it is easy to sell Bihar. Bihar isn't what you can discuss while having "koffee with karan."
What do you think who is or has been the greatest English novelists from Bihar?
English novelists from Bihar? Have there been any?

How well Binod in 'Home Products' gel with his small town background and the big cities explorations?
You will have to read the book to find out the answer. And you will have to judge this for yourself.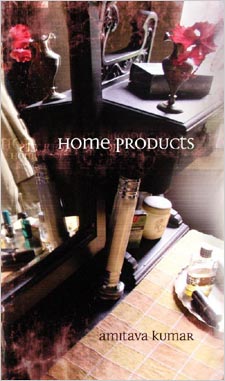 Since a novelist is always there in the novel-- does Binod sound, seen and read familiar with amitava kumar?
I share similarities with Binod but also with Rabinder, and baba, and bua.
What you and others must accept is that a book like this is called a novel because it is a work of fiction.

Is 'Home Products' a fiction or is it falls somewhere in-between-a fictoid?
There are parts of the book that are based on research and travel. But in every instance I have used my imagination to create a space of invention.
How difficult it is to shift from non-fiction to fiction? What's your experience?

It is not easy. You have to find a new idiom. A different mixture of loquacity and reticence.

Has Pankaj Mishra broken the ground for small town English novel writing with small town plots, theme and characters in India to sell it off to the international readership and market?

Again, that note of bitterness and cynicism toward the end in your question...
But yes, Pankaj Mishra has played a good role in putting into question the singular reality of the metropolis.
What is the current trend of English writing in India and what would be your tips for the upcoming/ aspiring English writers from your home town?
My advice to any writer would be that he or she become a reader first. Read as widely as you can. And keep a notebook in which you write everyday. Write simply but regularly. Just record the world around you.

How homesick or nostalgic are you?

Not very. Thank you.