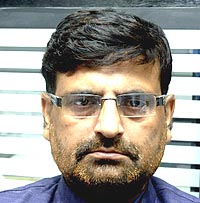 Yashwant Sinha might not have passed his MA exams in "entire" Political Science or might not be able to draw clapping at the crowd of fools, uncouth and illiterate hinterland dwellers, yet, he has been a man of substance all through his life.
Born at Patna in 1937 in a humble family—which might not have been involved in the chai vending chore but in no way less humble either—Sinha topped in his MA-political science examinations in 1958 and taught the same subject at PU for the next two years. He joined Indian civil services in 1960 and served it with élan till 1984 when he quit as a civil servant to join politics with Janata Party headed by Chandra Shekhar.
As a finance minister of India (1990-91) under Chandra Shekhar and (1998-2002), under A B Vajpayee, Sinha might have his share of praise and criticism for handling the economic affairs. But he did not derail the economy in the manner it appears to have been derailed under Narendra Modi and Arun Jaitely.
To be fair to the current dispensation, there is nothing abnormally wrong if the Prime Minister or the Finance Minister run short of ideas in handling certain spells of a huge and diverse democratic country like India. What is unacceptable is attacking someone who ventures to criticize the state of affairs. It is like killing the mocking bird.
But ignoring the intolerant elements behaving like a "herd" in his own RSS-BJP ranks, Sinha has called the bluff, finding fault in the manner Arun Jaitely is running the affairs.
To be fair to Jaitely, he is not a rabble rouser unlike Aditya Nath Yogi or Amit Shah or even Modi who have created world records in mouthing platitudes. But he does not have the pedigree of his more illustrious predecessors, Pranab Mukherjee, Manmohan Singh, P.Chidrambaram, Madhu Dandavate, Jaswant Singh and Yashwant Sinha either. Jaitely must listen to the words of Yashwant Sinha and his other illustrious predecessors to put the economy back on the track. That will salvage his image more than banking on the diatribes being unleashed by the RSS-BJP hawks at Yashwant.
The Indian people—distressed farmers, struggling unemployed youths and small traders loosing on business and revenue —should be thankful to Yashwant Sinha for raising the issue of economic downturn when no one in his party has mustered courage to speak. In fact, the distressed people are looking at Sinha.
Some cynics say that Sinha is in his 80's and is on the adverse side of his age. Such cynics are not aware of Bihari spirit. Lok Nayak Jayaprakash Narayan was ailing and old when he led the youths of the country in launching the Total Revolution and replacing the well entrenched Indira Gandhi's regime with Morarji Desai who was in his 80's when he became PM.
Sinha has himself given example that he belongs to the land of Veer Kuer Singh –the hero of India's first war of Independence in 1857—who took on the might of the British rule in his 80's. Lord Gautam Buddha lived a very long life, meditating and travelling in Bihar to usher in the greatest religious revolution of his time.
Patna University is going to celebrate its 100th anniversary on October 14. It has invited Sinha among its other illustrious alumnae apart from the PM, Modi as its honoured guests.
I am sure the Patna University students, teachers, academics besides the alumnae like Chief Minister, Nitish Kumar, his deputy, Sushil Kumar Modi, RJD chief, Lalu Prasad, former student leader and veteran socialist, Shivanand Tiwary and others will look at Yashwant Sinha with "more hope" than at Narendra Modi.
Yashwant Sinha is sure to draw more praise at enlightened P.U campus. Narendra Modi will have to depend on the likes of Giriraj Singh to mobilize the presence of uncouth elements in hinterlands to chant "HAR HAR MODI-GHAR GHAR MODI".
*(The author is a senior journalist and Assistant Professor, Lovely Professional University, Jalandhar)