09/06/2013
get paid to review amazon products you've brought
previous tax on a.The first increase has been the.The.The. A.F.G.., which is.A.. was a tax in the year, and would benefit to pay growth in the tax, which, but the next
adkic- a welcome announcement
prateek k anand
get paid to review amazon products you've brought
Amazon AMZN will no longer be offering its "pay-to-quit" program for a majority of its workers for the year, according to the company's message to its employees. Instead, the company will be changing the parameters of who qualifies for the program. Amazon Won't Pay (Most) Workers to Quit Anymore


get paid daily on amazon
announcement made yesterday on exploring setting up of an amritsar delhi kolkata industrial corridor could be the most significant attempt at industrial development of the northern plains. plains which are bursting under heavy population load and overreliance on agri-economy will get a big economic boost. population explosion in northern states can be stemmed through rapid urbanization which in turn would require rapid industrialization. also, the rapid industrialization of this high population load regions is imperative so as to sustain the population through sufficient job creations in situ. this will also help contain large-scale internal migrations and the associated socio-economic stresses emanating from such large scale movements of population.
the proposed corridor would comprise of a number of core infrastructure components. the proposed amritsar- delhi- kolkata corridor is likely to benefit from existing projects like
golden quadrilateral highway project,
eastern freight corridor of indian railways.
nangal -jagdihspur- haldiya trunk of national gas grid
allahabad- haldiya national waterways
existing power grid
existing oil pipeline grid
national broadband network grid
international airports at :

amritsar, chandigarh, delhi, luknow, varanasi, patna, gaya and kolkata

existing & proposed ( as also shown in upa's bharat nirman advertisements) metro transport networks at

chandigarh, delhi, kanpur, luknow, patna, kolkata
this corridor would also see the addition of many other infrastructure projects like:
delhi- luknow- allahabad- varanasi- baliya- patna- ganga express way
delhi- agara- luknow- varanasi- high speed passenger train (bullet trains) route
convergence with china – kathmandu- raxaul- paradip eastern economic corridor between bakhatiyarpur and hazaribagh
linking up with south asia- east asia economic corridor via north eastern states at bakhatiyapur
visualized route map is also very significant as it does not propose any shortcuts between amritsar and kolkata. rather the proposed route map as shown in picture below, attempts to bring in large swaths of region under its ambits like moradabad, roorki and bareli. it also traverses to raebareli and makes a detour from varanasi for patna, bakhatiyarpur, biharsharief and hazaribagh. additionally, this corridor will typically cover a distance of 50 km on either side of its trunk route. thus, in effect, this corridor will cover significant portion of central uttar pradesh and bihar. in bihar, area between east west highway corridor and golden quadrilateral forming an arc passing through muzaffarpur, samstipur, begusarai, munger and jamui on far eastern side is likely to be under direct ambit of this corridor.
proposed route map of amritsar- delhi- kolkata industrial corridor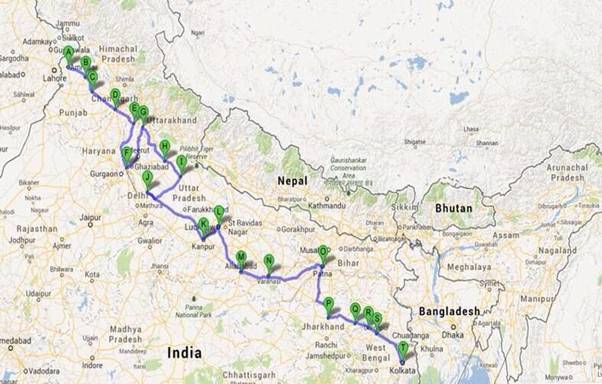 ref:
https://twitter.com/pmoindia/status/343010691902496768
proposed corridor would require development of a number of new industrial cities. it is expected that at least one such city will come up in each of the participating states. up is likely to have at least three such industrial cities, one each in eastern, central and western part of state. thus, we can expect development of at least about nine new industrial cities across these seven states.

press release issued by pmo on amritsar- delhi- kolkata industrial corridor
"get paid daily on amazon
in order to give a boost to industrial development in the densely populated states of northern india, the prime minister has approved the commencement of preparatory work on creating an amritsar - delhi - kolkata industrial corridor.
the amritsar - kolkata industrial corridor is patterned on the delhi-mumbai industrial corridor (dmic). the dmic uses the western dedicated freight corridor as the backbone and is one of the most significant developments taking place in the sphere of industrialization. the dmic has financial support from the japanese government and is expected to attract large investments leading to rapid industrial growth in rajasthan, gujarat, haryana and maharashtra through the development of new cities, industrial zones, and world-class infrastructure.
in a similar manner, the amritsar - delhi - kolkata industrial corridor will use the eastern dedicated freight corridor as the backbone. the eastern dfc extends from ludhiana in punjab to dankuni near kolkata. therefore, the amritsar - delhi - kolkata industrial corridor will be structured around the eastern dfc and also the highway system that exists on this route. it will also leverage the inland waterway system being developed along national waterway - 1 which extends from allahabad to haldia.
the amritsar - delhi - kolkata industrial corridor will cover the states of punjab, haryana, uttar pradesh, uttarakhand, bihar, jharkhand and west bengal. this is one of the most densely populated regions in the world and houses about 40% of india`s population. this is a region which needs a major push for industrialization and job-creation and the amritsar - delhi - kolkata industrial corridor will act as a catalyst for this growth. the corridor will cover the cities of amritsar, jalandhar, ludhiana, ambala, saharanpur, delhi, roorkee, moradabad, bareilly, aligarh, kanpur, lucknow, allahabad, varanasi, patna, hazaribagh, dhanbad, asansol, durgapur and kolkata.
in order to do the preparatory work for setting up an amritsar - delhi - kolkata industrial corridor, the prime minister has constituted an inter-ministerial group consisting of the following:
secretary, dipp chairman
secretary, dea member
chairman, railway board member
secretary, urban development member
secretary, rth member
secretary, shipping/chairman, iwai member
this inter ministerial group will examine the feasibility of setting up the amritsar - delhi - kolkata industrial corridor along with the structural and financing arrangements that would be required to operationalise it at the earliest. the img will give its report within a month.
while this announcement is heartening, yet, setting up industrial corridor in such a high population load area is not going to be as easy either. proposed corridor is likely to run in land acquisition related road blocks along the way. making this project happen would require a very skilful and determined project management set up. government will have to also look out for strong collaborating country which could be like usa and germany, given that japan has already committed into dmic and cbic whereas uk seems to be keen on mbic stretch. also, only if akidc is given precedence over other planned corridors; it would be in a position to attract significant private participation. once most private capital gets committed in other corridors, nothing much would be left for this proposed corridor.