| | |
| --- | --- |
| | This champion of women and labour rights and left-leaning freedom fighter, Zahra Daudi, was born at Chapra, Bihar on 16 March 1923. Her father Maulana Ali Asghar, a staunch nationalist, was close to the luminaries of the freedom movement like Maulana Azad and Dr Rajendra Prasad. Ali Asghar preferred to wear hand-woven Khadi clothes, participated in the Non Cooperation-Khilafat Movement and was a rabid critic of the Muslim League. He regarded Muslim League as disgusting collaborator of the British colonialism, besides being communal separatist. |
She was extensively well read particularly in the literature on socio-economic location of women in History, on the trajectory of the institution of prostitution, feminist movements all across the globe. Through her readings she discovered that first example of women as ruling elites come from Egyptian history, and that the Arab women started losing their freedom when it came closer to Iran and Turkey, then the Prophet Mohammad did a lot to improve the condition of women. She had read Anne Hutchinson, Mildred, Brown Miller, Susan, Mary Astel, and Betty Friedon's Feminine Mystic, Germaine Greer's Female Eunuch, John Stuart Mill's Subjection of Women besides the classical Urdu and Persian texts (including Deputy Nazeer Ahmad and Rashidul Khairi), and Ashraf Ali Thanwi's Bihishti Zewar etc. among many others.
Zahra Daudi has written three volumes of her memoirs/ autobiography/ travelogue in Urdu:
Lazzat-e-Sahranoordi (Wanderlust)
Girdaab ki Shinaawari (Delving into the Vortex)
Manzil-e-GurezaaN (The Elusive Destination)
She was widely travelled across the globe and has detailed her observations on the history and culture of those countries, looking particularly at the plight of women in these places.
She was educated from Patna's Girls School, Magadh Mahila College, Women' College. She did her MA in Economics, then five years later in Political Science and finally did her Law, all from Patna University. She was activist since her student days and had participated in various emancipatory movements for which she served jails in Biharsharif and Patna. Having read the Communist Manifesto, she became a member of the CPI.
She had led a strike of the Biri workers at Biharsharif, for which she had served imprisonment (December 1959?), where she continued with her politics of protests against the objectionable treatment meted out to the prisoners. For long she was underground activist of the CPI.
Zahra's Marriage in the Daudi Family of Muzaffarpur:
Zahra was one of the first Muslim Girl students of Bihar to have performed distinctively in the High School exams. It impressed Shafi Daudi (1875-1949) of Muzaffarpur, Bihar. Thus she was married to Shafi Daudi's son Habib Daudi, who became officer in the Railways. Habib Daudi's father Shafi Daudi and mother Begum Zubaida Daudi were well-known freedom fighters. Shafi Daudi had later joined the Jamaat-e-Islami. [see my Urdu essay on Shafi Daudi in Jamia vol. 100, Nos. 4-6, 2003, pp. 33-50].
Zahra's mother-in-law, Begum Zubaida Daudi had played important role in mobilizing the Parda nashin Muslim ladies of Muzaffarpur to join the Non Cooperation Movement, and she, along with Bi Amman, the mother of the Ali Brothers, had addressed public meetings after her husband, Shafi Daudi was jailed for his fierce anti-colonial crusades. The headquarters of the District Congress, Muzaffarpur (Bihar) has a huge plot of land, named as Tilak Maidan. Shafi Daudi had played most prominent role in obtaining that land for the Congress during the Non Cooperation Movement.
Begum Zubaida Daudi, belonged to the Syed family of Paroo (Abida Samiuddin, Tehreek-e-Azaadi mein Muslim Khwateen ka Hissa, Idara-e-Tehqeeqaat-e-Urdu, Patna, 1990). The family sources claim that influenced by the movement of Shah Waliullah (1702-60) and of Syed Ahmed of Rae Bareilly (d.1831), one Nadir Ali moved towards north Bihar and went up to the village Chandi Dhanki [Lalganj, Vaishali] after the upsurge of 1857, when the Muslim community had become hopeless due to colonial retribution unleashed against them. His sons Qazi Abdul Waahid settled at Syedani, near Saraiya; Qazi Abdul Nasir settled at Churihar and Qazi Syed Abdur Rahman (d. 1889) settled at Paroo, all in Muzaffarpur district, near the historic village of Vaishali. Supposedly, they settled in the villages to help the Muslims overcome the post-mutiny frustration. Rahman was also the founder of the office of the Registrar for sale and purchase of lands at Paroo. Qazi Rahman, along with another village notable, Raghunandan Prasad, was instrumental in establishing English cum vernacular school for modern education at Paroo under the auspices of the Bihar Scientific Society, Muzaffarpur, which was an off-shoot of Syed Ahmad's movement for modern education in Aligarh. The then Sadr Amin (Sub-Judge) of Muzaffarpur, Syed Imdad Ali (d. August 1886), following the footprints of Syed Ahmad (1817-98), established the Bihar Scientific Society on 24 May, 1868. It was initially called the 'British Indian Association' and had the objective of 'criticizing the proceedings of the government, and defending the people from oppression by conveying their true complaints to the government'. In 1872 it came to be called the Bihar Scientific Society. The aim of the Society and its fortnightly, Akhbarul Akhyar, edited by Ajodhya Prasad Bahaar, was to bring intellectual, social and moral well-being of the people, spreading knowledge of European sciences through the vernacular and the establishment of schools, printing presses, newspaper etc. Arabic and Persian works were also to be collected, lectures had to be delivered.
This Society established a chain of schools across Bihar and a Collegiate school in Muzaffarpur, later on it developed into a big prestigious Post Graduate College, and the beautiful campus of the Bihar University, Muzaffarpur is located in the premises of this college. [see my, "Sir Syed's Movement for Modern Education in Muzaffarpur, Bihar", in s. Iraqi (ed.) Sir Syed Ahmad Khan: Vision and Mission, Manohar, Delhi, 2008, pp. 181-197]. Syed Sulaiman Nadvi's (1884-1953) second marriage also took place in this family of Paroo. It is said that Mr. Amir Subhani, one of the most upright and efficient IAS officer and presently the Home Secretary of Bihar, received his elementary education at Paroo as it is his naanihaal. He had secured All-India top rank in the competitive recruitment exams 1986, and his success inaugurated a change in the social composition of the elite civil services, as the new generation of lower middle class of the backward province of Bihar (more particularly, Muslims) got a confidence that education from non-elite rural institutions were no impediment in the way of success in the civil services exams.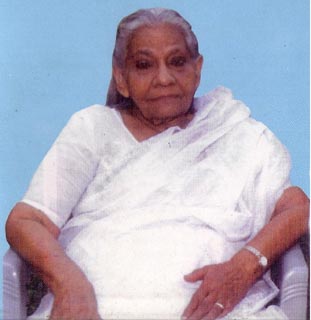 ZAHRA DAUDI 1923-2003
So, this was the lineage of Zahra Daudi's in-laws.
Zahra says that the Daudi family of Muzaffarpur was fairly progressive, even though they were repulsive against the Leftist ideologies.
Zahra's husband Habib Daudi, shifted to Calcutta to join the Railway services, and Zahra practised law there. After the communal riots (1964) of Calcutta, she, along with her husband and children, migrated to Karachi in July 1965. Lifelong, She remained puzzled about why did her husband migrate to Pakistan, and why did she endorse and follow this decision without any question. There in Karachi she taught Political Science in the PECH College, and became active in the Pakistani College Teachers' Association, and on its behalf she met Zulfiqar Bhutto first after a week-long hunger strike. On Bhutto's instruction she had formed a separate teachers' association affiliated to the Pakistan People's Party. She was a member of the PPP but was also sympathetic to the National Awami Party of Wali Khan.
She had her own criticisms against the PPP and also about Bhutto, who according to her was an arrogant political leader with dictatorial and authoritarian streaks, even though the success of PPP in 1970 contributed towards marginalization of the conservative and reactionary mullahs to an extent, and certain equitable, socialistic agenda like land-reforms, gained some acceptability among a section of common people and the intelligentsia of Pakistan, and that the PPP's success helped dispelling a notion that Left- oriented people are essentially apostate and atheists.
In some ways this real-life character resembled with the fictional character Dipali Sarkar of Aakhir-e-Shab Ke Hamsafar (1979), a wonderful novel by Qurratulain Hyder (English Translation, Fireflies in the Mist, 1984).
Zahra, for her non-conformist and rebellious views, particularly for her views on Pakistan's policies towards Bangla, was dismissed from the college services in 1979. Later she practised law at Karachi to earn livelihood to look after her four sons, as her husband had passed away [in 1969?],
The radicalism in Zahra had made her express certain critical and provocative views on the scriptural and normative location of women in the Muslim societies. She was equally harsh against certain symptoms/ features associated with the otherwise 'liberated' women of the West.
Unlike many radical feminists, she had firm faith in the institution of family, and had an opinion that the grandparents have a crucially necessary role to play in inculcating moral values and desirable disciplining among the growing children.
Later, she migrated to and settled in Canada to join her sons, where she died in September 2003. Her children, Tanvir, Jawaid, Naaheed, Nadeem are leading lives of successful professionals in Canada, with suffix, DAUDI in their names.