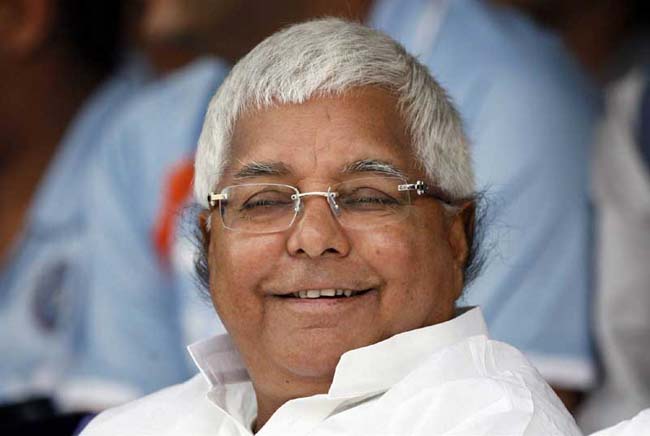 It was on March 10, 1990 that Lalu Yadav became the chief minister of Bihar for the first time. Twenty-four years later on this very day a Muslim, (Ghulam Ghouse), and a Yadav (Ram Kripal) deserted the party and embarked on political journey to two different directions.
In between came March 10, 2000. On this date Nitish Kumar resigned from the post of chief minister after serving it for seven days––March 3 to 10 and a day later Rabri Devi again became the CM of the state. Nitish resigned as he could not win the trust vote then.
While on March 10 this time Ghouse went all the way to Janata Dal (United) his friends Ram Kripal, on the same day, announced that he would certainly contest from Patliputra parliamentary seat against Lalu's daughter, Misa Bharati––most probably on the BJP ticket.
Though on this very evening Kosi strongman, Rajesh Ranjan, alias Pappu Yadav, joined the RJD yet many political observers are of the view that the exit of Ghouse and Ram Kripal is a pointer to the fact that the M-Y combination has come under strain.
By this criteria it can be said that a sizeable number of Muslims and Yadavs are certainly travelling to opposite directions. If this really happens it would be a blow to the RJD.
But then both Ram Kripal and Ghulam Ghouse are Patna-centric politicians and many others are of the view that their going to different direction may not have much bigger impact on Lalu as such. They cite the example of the coming to the RJD fold of Pappu Yadav, who is certainly a force in the Kosi belt.
But the problem with the RJD is less political and more legal. The rank and file feel that the court ruling is a bigger challenge than Narendra Modi.
What they fear most is the fate of Lalu, who has already been convicted. Many of them feel that now that he appears to be losing the legal battle the ship named RJD is about to sink. So on one pretext or the other they are jumping off and trying to swim to safety.
It is not for the first time that Ram Kripal was denied ticket. After the delimitation Lalu contested from Patliputra in 2009 only to lose. Though Ram Kripal was not pleased over the denial of ticket yet he did not revolt against Lalu. Actually, he had a better claim on Patna Saheb, which in 2009 went to alliance partner the LJP and this time to the Congress.
Ram Kripal, who was made the Rajya Sabha MP in 2010, would have agreed had Lalu been on strong legal wicket. He knows that his boss may make a political comeback but perhaps not legal one as he can not contest for 11 years. So not only Ram Kripal but many others do not want their fate to be decided by sons and daughters of Lalu Yadav, whom they served with so much dedication.
Lalu's problem is that he is unable to fathom the situation, or if he is understanding it, he is helpless. He can not just abandon politics and go to Haridwar to become a hermit. So he is bound to fight the last ditch battle.
Like Ram Kripal, Ghulam Ghouse has always opposed the caste politics among Muslims, yet now he took the same excuse to quit from the party. This is simply because he knows that the time has come to say good-bye to the party––may be with a heavy heart.
In fact he was a non-political person, who owes his place to both Lalu Yadav and maternal uncle and former Bihar Speaker, Ghulam Sarwar. His son-in-law, Dr Ejaz Ali, was in fact the leader of the then Backward Muslim Morcha. So Lalu opted to make Ghulam Ghouse an MLC as promoting Dr Ali would have sent a wrong signal.
Even in 2009 election Lalu gave ticket mostly to upper caste Muslims as it was his political compulsion, but then Ghulam Ghouse stood behind him. Now the situation is somewhat different.
To be fair to Lalu, initially he had a lot of Muslim leaders from the backward castes. Be it Ghulam Sarwar or Ilyas Husain or late Mumtaz Ansari, all were the heavyweights of the party in early 1990s.
The Muslim upper caste leaders like Abdul Bari Siddiqui or M A A Fatmi came much later in the picture. Taslimuddin, on the other hand, is a much senior politician and has less to do with the rise of Lalu so is Shahabuddin who won as Indepenent in 1990 Assembly election.
As most backward caste leaders, for example, Ali Anwar and for a brief period Dr Ejaz Ali, joined Janata Dal (United) Lalu was left with the handful of upper caste leaders. As backward castes are numerically strong their leaders are wooed by rivals for obvious political gain.
Incidentally, two MLAs of the party Akhtar-ul-Iman and Jawaid Eqbal Ansari, who revolted on Feb 24, are not from the upper caste. Lalu can not give ticket to Akhtar-ul-Iman from Kishanganj as the Congress has sitting MP, Asrar-ul-Haq, who incidentally is Surjapuri like Iman.
Ghulam Ghouse was the backward caste face whom Lalu could have given ticket. He may not win the election, but has the potential to damage the prospect of his good friend Siddiqui as Dr Shakeel Ahmed's presence did last time