| | |
| --- | --- |
| | The Asocial Networking is a non-fiction and deals with a myriad topics concerning our online social behaviour, which includes how we socialize on web, the need of social networking, the future of social networking and the human connect with gadgets and gizmos. In his book the author talks about the growing influence of our online existence, in our day-to-day life and the changing priorities of mankind. This is relevant to everyone who is connected to the social networks for all kinds of needs. |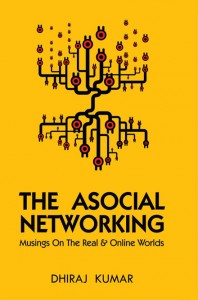 It is a surprising thing. How can so many of us be so willing to network in a virtual society? We are fooled into believing that another world exists, which can be the extension of our real lives––so much so, that we are always glued to the blue screen and Facebook––
irrespective of whether we are at work, at home or flying. We all socialize with aplomb through the exchanges of whatever blabber, gibberish or issues we wish to discuss, by plastering them on our walls––only to be retrieved later in exactly the same format, adulterated with the additives of 'Likes' and 'Comments' of people on whom we affably confer the term 'Friend'.

Most of these friends of mine only exist in a virtual habitat as they rarely have the time to actually meet me. Still, I keep up with them like a good friend should, by occasionally visiting their homepages, sometimes by stalking their profiles and updates, fearful of waking them up, and sometimes by poaching their friends and family members.

These friends have a tendency to show up in thumbnail-sized photographs alongside some text or as names abutting some numbers indicative of my popularity. Whenever they drop in, they carry the gift of glowing numbers that appear on the top left corner of my homepage. They help me fight boredom and ennui by existing in their hundreds and thousands, but most of the time they are in a dormant state and rarely do anything special to attract my attention. Sometime I feel bad about not having time for everybody, but my close friends make up for my inadequacy by constantly keeping me on my toes with their likes and updates in the world of social networking.

The world out there is strangely upbeat, with so-called 'life changing', 'only one of its kind', 'the best ever' categories of material––which in normal parlance is termed 'multimedia content'. I am often awed, sometimes stupefied, and most of the time listlessly lost, in this world–– frenetically pressing the refresh button for some more interesting stuff to pop up. I rarely have the time to do anything in reality, for I know irrefutably that whatever I do on the web will have more widespread repercussions than anything that I could do in the actual world. It is like a bonanza for an action lover like me. I rarely go offline as electronic gadget manufacturers have empowered me with some of their latest gizmos, which helps me to socialize even when I am not hooked to my PC. For an addict like myself, it means multiplying my entire lifespan by two––a windfall gain to my longevity.

Anyone can fall prey to it––and many have already. We all believe that we get a brand new home when we open a Facebook account. Then we adorn it with our photographs, hobbies, interests, and of course, testimonials from friends who still uphold the virtues of the barter system in our modern world.

Then we invite friends and families to our 'homes' and exchange freebies. We socialize with others and comment on their thoughts––we blare through the loudspeaker when we have some achievement to share.

We also force others to know the mood we are in. We visit friends and acquaintance and stalk strangers with insidiously and innocuous regularity. In short, we exhibit the most sophisticated and suave of all societal characteristics by spending as much time on the web as in the real world, exchanging favours.

Perhaps we are all unsatisfied with the one real life we are all blessed with? We are all deprived of an audience, we are unsatisfied by our 'lesser than life' image; we are unsatisfied with the normal course of events that fill our days; we are all unhappy with only a few people knowing about us; we are weary that we have to spend most of our life in day-to-day drudgery. We all want to escape this social boredom so that we can liberate ourselves in the relentless world of networking, where we are fooled into believing that we can magnify and often glorify even the little achievements and lead the life of a shooting star.

We are also lonely people who wish to share our feelings with the world at large. As a result, we are on an unceasing pursuit to express ourselves in a manner that reflects our personality and charisma. We often go overboard when we are upbeat, sometime diminutive when we are down, and clueless most of the time about why we are so overwhelmed with the concept of social networking. We wish to be heard, thanked and appreciated. We tease our friends; rebuke our adversaries; and appreciate our acquaintances. We are all doubly 'humane' when we are glued to the screen, continually hitting buttons and listening for updates that could titillate our inner selves.

We post something on the wall and wait for the whole world to respond. We are overjoyed when we see the glowing number at the top left which indicates somebody has tried to connect us. We comment on somebody's status and expect the whole world to marvel how intelligent and 'out of box' we are.

It has made me into an introvert. It has also made me look inward through the eyes of others. I hate Facebook. It keeps me occupied even when I am not logged in. The bottom-line is that most of us are having a so-called 'great time', while socializing on the web. It brings out the most verbose and outspoken part of ourselves, thereby often driving us to extremes––sometimes to ecstasy, or pleasantly surprising us; or causing amusement; or keeping us engrossed. But most of the time, it instills absolute listlessness and an indifferent obsession with the new virtual reality––social networking.

Let's also talk about Facebook's vulnerability, of losing its hegemony owing to the growing numbers of demanding customers who everyday seek new experiences. The fickleminded human poses a great danger to these early captors––who are now making hay in social and financial world––so much so that every investor worth his salt wants a piece of the pie of this networking mania. With technological advancement and growing awareness among common people, the day is not far when more and more PC and mobile manufacturing companies will jump into the fray to outdo each other in providing the best social networking on our palmtops and androids when we are offline.

The game of networking has intensified so much and the power shared by three players (Facebook, Twitter and LinkedIn), that any change of status quo would require huge investment along with ingenuousness from new players. These players would also need the financial wherewithal, charisma, resourcefulness and above all, understanding of the human mind, in order to cajole and manipulate human minds by conjuring up something better than what everyone has become accustomed to. It will be interesting and ironical to see people going the extra mile to socialize on the web with the help of these gadgets when they can actually step forward and socialize with the person standing next to them!

Let us attempt to look into the future of humankind and its changing priorities by explaining the future of social networking. In my view, people will become more and more demanding and search for real time
experiences as they grow accustomed to the digital mode of socializing. This will lead to a demand for physical meeting places where people can congregate and share their thoughts and experiences.

The same places will help people interact in small interest groups, bound by common beliefs, ideologies, hobbies, interests etc. To provide these services, social networking would have to invest heavily in opening brick-n-mortar offices (multi-storey buildings with different floors dedicated to different hobbies or interests), in every major city. I do believe that in future, social networking will not be free as it is now. Once people get used to it, they will not mind paying a user fee in––which is likely to happen.

To benefit those who exhibit their social lives on the web, the book also educates one on the small tricks of the trade in mastering the art of networking in order to garner tangible gains in the real world.

Let us also look at our vulnerabilities and weaknesses which are often reflected in the way we socialize on the web. Of course, some people have mastered the art of masking their inhibitions, which has worked in their favour and made them desirable and irresistible, both in the electronic world and real world.

I present a glimpse into the social order in a hundred years time. With growing industrialization and exploitation of natural resources, industry will move to the most economical locations. This will lead to reaching the highest level of efficiency in every sector. And so will begin a horrendous rate of exploitation of resources, leading in turn to surplus capacity in every sector. The balance of power will slowly collect in the hands of powerful conglomerates, who in a few years time, will acquire almost all ownership rights over these natural resources.

The world will move in exactly the opposite direction––from perfect competition to the oligopolistic or even monopolistic system that existed two or three centuries ago. What will remain will be small nucleii of power, in the hands of either States or corporations––who will have the operational wherewithal to exhaust almost all the world's natural resources, if they are allowed to work in isolation.

Additionally, every State would be equipped with a repertoire of devastative weaponry, which would have the capability of destroying the entire human race at the word 'go'. So this will lead to another sort of world democracy building up, where players will be united by their right of equitable distribution of natural resources––not for their growth and prosperity, but for their survival. Every country would be wary of irritating another. State boundaries would all have to go in favour of one nation that will be the Earth. Citizens of the World would have to work in tandem in order to live and prosper.

This entire scenario will, however, develop in its own time. But why should we stop ourselves from gazing into the crystal ball in order to avoid armageddon?
| | |
| --- | --- |
| Book: | The Asocial Networking |
| Author: | Dhiraj Kumar |
| ISBN: | 9381115879 |
| ISBN-13: | 9789381115879, 978-9381115879 |
| Binding: | Paperback |
| Publishing Date: | 2011 |
| Publisher: | Leadstart Publishing Pvt Ltd |
| Number of Pages: | 322 |
| Language: | English |