Bihar News
Sushil Modi comes to the rescue of Nitish on Kirti Azad episode
Patna,(BiharTimes): In a bid to play down the Nitish Kumar-Kirti Azad episode deputy chief minister Sushil Kumar Modi on Tuesday came to the rescue of the former by stating that "I know Nitishji for quite a long period of time. He is not the kind of person to stop a people's representative from airing his opinion."
JMM rules out pact for 2014 polls


Ranchi, May 22 (IANS) The Jharkhand Mukti Morcha (JMM) Wednesday ruled out any pre-poll tie-up in the state assembly and Lok Sabha polls in 2014.

Bihar rights panel seeks report on scribe's plight
Patna, May 22 (IANS) Taking cognizance of prolonged harassment faced by a journalist and his family by their landlord for not paying an exorbitant rent here, Bihar's rights panel Wednesday sought a report from the city police chief on the issue.
Bihar lifts ban on contractual appointment

Patna,(BiharTimes): The Bihar cabinet

on Tuesday

lifted the ban on contractual appointments in different boards, corporations and other departments. Now, they can appoint employees on contract basis by relaxing the age and other criterion. The ban was imposed on December 20, 2012.
Shashi Kant Sharma to be new CAG

New Delhi, May 21 (IANS) Defence secretary Shashi Kant Sharma will be the new Comptroller and Auditor General (CAG) of India, replacing Vinod Rai, who retires May 22, the government announced Tuesday.
Pappu Yadav released from jail
Patna, May 21 (IANS) Four days after the court acquitted former RJD MP Rajesh Ranjan alias Pappu Yadav on charges of killing CPI-M leader Ajit Sarkar, he was formally released from jail here Tuesday, police officials said.
Patna, May 20 : Bihar's ruling Janata Dal-United (JD-U) legislator Sanjay Singh Monday filed a defamation case against Rashtriya Janata Dal chief Lalu Prasad for allegedly using unparliamentary language against him.
Purnia DIG's son killed in Gangtok
Patna,(BiharTimes): Rakshit Meena, the son of Purnia range DIG Bachhu Singh Meena, died at a hospital in Gangtok after being beaten up by a group of youth and bouncers (security guards) at a nightclub in the wee hours of

Sunday

.
BASA seeks probe into JD(U) MLA's misbehaviour
Patna,(BiharTimes): The state executive committee meeting of Bihar Administrative Service Association (BASA) held

on Sunday

sought a probe into alleged unruly behaviour by Khagaria JD(U) MLA, Poonam Devi Yadav, and Zila Parishad chairperson Krishna Yadav, with Khagaria's senior deputy collector Anand Prasad on May 13.
Petrol price rises in Bihar
Patna,(BiharTimes): Petrol price in Bihar has gone up by Rs 1.76 per litre following revision in state specific charges.
JD(U) likely to throw its door wide open for Pappu Yadav
Patna,(BiharTimes): The demand of former MP and Kosi strongman, Rajesh Ranjan alias Pappu Yadav, has gone up in the political circle after his acquittal by the Patna High Court on the charge of murder of CPI (M) MLA, Ajit Sarkar.
MS student arrested for forgery in exam
Patna,(BiharTimes): A Central Bureau of Investigation team from New Delhi

on Saturday

arrested a final-year student of Master of Surgery (MS) at Patna Medical College and Hospital on charges of impersonation, cheating and fraud in examination.
JD(U) leader shot dead in Khagaria district
Patna,(BiharTimes): Senior Janata Dal (United) leader of Khagaria district, Ram Pratap Paswan, was shot dead by two motor-cycle borne criminals in the premises of Khagaria railway station

on Saturday

. Paswan was the district president of Mahadalit Cell of Janata Dal (United).
BJP MP Kirti Azad interrupts Nitish at official meeting in Darbhanga
Patna,(BiharTimes): Tension between two NDA partners, BJP and JD(U), took an ugly turn at a high level meeting in Darbhanga

on Saturday

when the local saffron party MP, Kirti Azad, mustered enough courage to stand up and asked the chief minister, Nitish Kumar, that he be allowed to speak.
Left urges CBI to appeal against Pappu Yadav's acquittal
Patna, May 18 (IANS) Left parties in Bihar Saturday urged the CBI to appeal in the Supreme Court against the acquittal of former Rashtriya Janata Dal (RJD) MP Rajesh Ranjan alias Pappu Yadav in the murder of a CPI-M leader.
Congress comes to Nitish's 'rescue' in Maharajganj
Patna,(BiharTimes): The Congress party's decision to give ticket to Jitendra Swamy, son of former RJD MP, Uma Shankar Singh, for Maharajganj by-election is being interpreted as the first step in the direction of JD(U)-Congress electoral understanding.
Pappu Yadav acquitted in CPI-M leader's murder

Patna, May 17 (IANS) Citing lack of evidence, the Patna High Court Friday acquitted former RJD MP Rajesh Ranjan alias Pappu Yadav on charges of killing CPI-M leader Ajit Sarkar, a government lawyer said.
Lalu's Alsatian remark dogs JD(U) MLC
Patna,(BiharTimes): In a unique development Janata Dal (United) MLC, Sanjay Singh, gave a classic caste twist to RJD chief Lalu Prasad's remark about him and another party leader Sanjay Jha.
IT seeks expense details of Lalu's Parivartan rally


Patna, May 17 (IANS) The Income Tax (IT) department has served a notice to Lalu Prasad's Rashtriya Janata Dal (RJD), seeking details of expenses incurred during the party's Parivartan rally held here May 15, an official said Friday.
Juhi tops in ISc exam in Bihar
Patna,(Bihartimes): 93.25 per cent girls and 91.45 per cent boys passed the Intermediate Science (ISc) examinations conducted by Bihar School Examination Board (BSEB). The top three positions were held by the girls. The third position was in fact shared by a boy and a girl. There were seven girls in top 10.


Nalanda University project takes major step forward
New Delhi, May 16 (IANS) In a major step towards realising the ambitious Nalanda International University, coming up in Rajgir in Bihar, an international jury has selected the architectural design of an Ahmedabad-based firm for the varsity.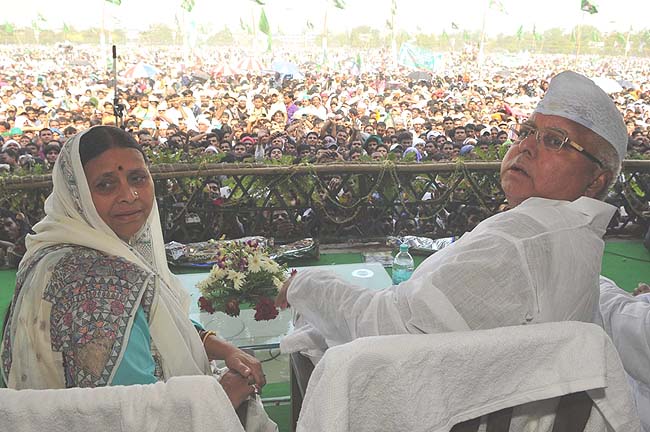 Pix: Manish Sinha
More pix >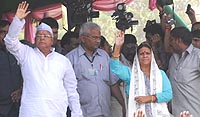 Lalu Prasad slams Nitish for corruption, rape incidents
Patna, May 15 (IANS) RJD chief Lalu Prasad Wednesday launched a scathing attack against Bihar Chief Minister Nitish Kumar for rampant corruption, bribery and rising incidents of rape in the state and said he would throw him out of power in the next elections.
Governance and Development are not the same thing
Vikramshila Setu over river Ganga in Bhagalpur, a bridge over Gandak near Revelganj, World Cup cricket match for the first and only time in Patna in Feb 1996 (spread over two days because of rain), the first One Day International in the city in Nov 1993, beautification of the state capital on the eve of the NRI meet in 1995, construction of Indira Gandhi Planetarium etc are some of the works accomplished during the 15-year of Lalu-Rabri rule, which even the RJD supremo seldom boasts, though he could have done so as most of them were purely state government's achievement without any central assistance.
RJD supporters paint Patna green for Lalu rally
Patna, May 15 (IANS) Ignoring the scorching mid-May heat, hundreds of thousands of people arrived in the Bihar capital Wednesday for Rashtriya Janata Dal (RJD) chief Lalu Prasad's Parivartan Rally -- the second after he was ousted from power in 2005.
Does Lalu want to push Bihar back, asks Sushil
Patna,(BiharTimes): Deputy Chief Minister Sushil Kumar Modi on Tuesday asked the RJD chief Lalu Yadav whether he wants to push Bihar back to the days of under-development by seeking to return to power by mobilising public support for the Parivartan Rally in Patna.
Bihar clerks' paycuts to be probed
Patna, May 14 (IANS) The Bihar Human Rights Commission has ordered a probe into the non-payment of salaries of some revenue clerks for six months, an official said Tuesday.
| | |
| --- | --- |
| | US technologies to help Bihar base companies: Envoy Patna,(BiharTimes): The United States ambassador to India, Nancy J Powell, on Monday praised Bihar's GDP and said that access to her country's technologies and services could help Bihar based companies to make a significant leap in infrastructure and agriculture sector. |
Lalu hits out at Nitish for criticizing sons
Patna,(BiharTimes): After remaining silent for a few days RJD chief Lalu Prasad hit out at chief minister Nitish Kumar, who had earlier said that the Parivartan Rally was being organised for T2 (Lalu's sons Tej Pratap Yadav and Tejaswi Yadav), who would replace S2, that is, brothers-in-law Sadhu Yadav and Subhash Yadav in the RJD.
Lalu trying to re-invent himself through Parivartan Rally

Patna,(BiharTimes): Now a days, RJD chief Lalu Yadav is literally on road in sizzling summer of Bihar to mobilize masses particularly in rural areas to attract people to the forthcoming "Parivartan Rally" (Rally for Change) to be held on May 15 in Patna. There is just one motive: to see to it that the Nitish government is dethroned.
Lalu Prasad hires 13 trains for his Patna rally

Patna, May 13 (IANS) Indian Railways got a boost to its business, thanks to former railway minister Lalu Prasad, whose party Rashtriya Janata Dal has hired 13 special trains to ferry workers and supporters to Patna for his Parivartan Rally here May 15.
School children celebrate World Biodiversity Day

Patna.(BiharTimes): Students from St Michael's, Don Bosco, St Joseph's, Hartmann, May Flower, Gyan Jyoti and Rashtriya Vikas on Saturday (May 11) jointly celebrated World Bio-diversity day at the Tarumitra Bio-reserve.
| | |
| --- | --- |
| | Nitish's gesture surprises JD(U), Congress workers Patna,(BiharTimes): An extraordinary gesture shown by Bihar chief minister Nitish Kumar towards the Union Finance Minister, P Chidambaram, on Saturday once again set off speculation about the proximity between the Congress Party and Janata Dal (United). |
| | |
| --- | --- |
| | HC's directive to check concrete jungle raj in Patna Patna,(BiharTimes): Just three days after the Nitish cabinet's nod to the urban development departments to build 16-19 storied flats and commercial complexes in Patna, Gaya and Muzaffarpur came a strict Patna high court directive on high rise buildings. |
Tips to protect eyes from heat
New Delhi, May 10 (IANS) From viral conjunctivitis to corneal ulcer, the merciless summer can cause all sort of eye-related problems. Water, eye exercises and other remedies can help protect them.
Railway, law ministers resign over corruption charges New Delhi, May 10 (IANS) Within hours of Congress chief Sonia Gandhi meeting Prime Minister Manmohan Singh Friday evening, the UPA government asked two tainted cabinet members - Railway Minister Pawan Kumar Bansal and Law Minister Ashwani Kumar - to go, sending out a signal that no wrongdoing will be tolerated.
Nitish digs deep into history in Gaya

Patna,(BiharTimes): Bihar Chief Minister Nitish Kumar, who is on Sewa Yatra of Gaya, on Friday ordered a detailed study of Koteshwarnath temple by a team of scholars to discover the historical richness of the ancient temple and also called for all Buddhist sites between Bodh Gaya and Sarnath near Benaras be documented to promote tourism.
| | |
| --- | --- |
| | JD(U) asks BJP not to be stubborn on Modi as PM candidate Patna, May 10 (IANS) Bihar's ruling Janata Dal (United) Friday urged its national ally Bharatiya Janata Party not to be stubborn over the projection of Gujarat Chief Minister Narendra Modi as its prime ministerial candidate for the next general elections. |
SEBI establishes office in Patna
Patna,(BiharTimes): Market regulator Securities and Exchange Board of India (SEBI) on Thursday said it has established a local office in Patna, as part of its efforts to decentralise work to regional offices.
After JD(U) it is trouble from Shiv Sena for BJP
(BiharTimes): Just when different factions of BJP in Bihar were closing their ranks to throw their weight behind Narendra Modi came the big news of devastating defeat of the BJP in Karnataka. The Janata Dal (United) rank and file are elated––perhaps no less than that of Congress and RJD-LJP combine––and party general secretary, Shivanand Tiwary, went on record to tell that his party had already warned the saffron brigade on projecting the Gujarat chief minister as the prime ministerial candidate.
Bihar imposes 10 per cent surcharge on petrol

Patna,(BiharTimes): The state cabinet on Tuesday decided to levy 10 per cent surcharge on petrol and 15 per cent on tobacco products, except bidi, which would be borne by the manufacturers.
Patna, May 9 (IANS) A six-month-old baby succumbed to a deadly mosquito-borne disease in Bihar Thursday, taking the toll from the disease to three in 2013, and 16 children have been admitted to hospitals in Muzaffarpur, officials said.
Pakistani prisoner Sanaullah dies
Chandigarh, May 9 (IANS) Pakistani prisoner Sanaullah Ranjay who was in a hospital here after being attacked in a Jammu jail last week died Thursday morning, doctors said.
JD-U happy as Modi fails in Karnataka Patna, May 8 (IANS) Bihar's ruling Janata Dal-United leaders are happy that the BJP was routed in Karnataka despite campaigning by Gujarat Chief Minister Narendra Modi.
13-year-old Bihar boy cracks IIT-JEE prelim Patna, May 8 (IANS) A 13-year-old boy from Bihar has cracked the preliminary examination of the highly competitive Indian Institute of Technology-Joint Entrance Examination (IIT-JEE). He is the youngest to pass the exam.
Patna HC asks govt to submit plan for removing encroachments Patna,(BiharTimes): A division bench of Justice Navin Sinha and Justice Shivaji Pandey of the Patna high court on Tuesday directed the state government to submit before the court an action plan for removing the encroachments from government land and the premises of different government departments in the districts.
Lalu mistook Narendra Modi for Sushil Modi: Bihar Deputy CM Patna,(BiharTimes): Deputy Chief Minister Sushil Kumar Modi claimed on Tuesday that the RJD chief Lalu Prasad would not have received the telephone call of Gujarat Chief Minister Narendra Modi had he known about the identity of the person on the other end in advance.
Maharajganj by-poll: A litmus test for BJP-JD(U) alliance Patna,(BiharTimes): The by-election to the Maharajganj Lok Sabha seat scheduled to be held on June 2 will be an acid test for the NDA as the non-stop wrangling between BJP and Janata Dal (United) had created a lot of suspicion, mistrust and tension within the rank and file of both the parties.
| | |
| --- | --- |
| Bihar to buy 1,000 MW to provide power to all by 2015Patna, May 7 (IANS) Power-starved Bihar plans to buy 1,000 MW in the open market from 2015 to meet the shortfall in its power requirements and keep the chief minister's promise of power for all before 2015 assembly polls, officials here said Tuesday. | |
Use belt while sitting on front seat, Nitish advises Lalu Patna,(BiharTimes): Instead of inquiring about RJD chief Lalu Yadav's health condition after the latter suffered injuries in a car mishap near Raghopur in Vaishali district on Friday night chief minister Nitish Kumar on Monday went on to advice him to fasten the seat belt as that would have saved him from the bruises.
| | |
| --- | --- |
| A Gujarat-based company will draft the masterplan and design the upcoming Nalanda International University at the ancient seat of learning in Bihar, its vice chancellor said Tuesday. | |
Bihar densiest state in the country
Patna,(BiharTimes): Bihar is the densiest state in the country to be followed by West Bengal. The Primary Census Abstract 2011 released recently said Bihar has a population density of 1,106 people per sq km, while West Bengal is in second place with 1,028.
Up to Bansal to decide on resignation, says Nitish Kumar
Patna, May 6 (IANS) Bihar Chief Minister Nitish Kumar Monday defended Railway Minister Pawan Kumar Bansal, saying it was his personal decision whether to resign or not following his nephew's arrest in a case of corruption in his ministry.
US firm to invest $240mn to light up Bihar's Buddhist sites
Washington, May 6 (IANS) A power venture formed by Indian and North American energy professionals plans to create a role model for the world by lighting up famed Buddhist sites in Bihar with a $240 million (Rs. 13 billion) solar energy project as part of a corporate social responsibility initiative.
Sharad defends Pawan Bansal, Nitish maintains silence

Patna,(BiharTimes): That Janata Dal (United) national president and NDA convenor, Sharad Yadav, so stoutly defended the Railway Minister Pawan Kumar Bansal, came as a surprise because, otherwise, he leaves no opportunity go to criticize the Congress party. But what is more shocking is that chief minister, Nitish Kumar, has not spoken a word on the issue though he is always among the first to flay any 'wrong' committed in the ministry he had held in the Vajpayee government.