Patna (Bihar Times): Richa Gangopadhyay, a 21-year-old Michigan student, was crowned Miss India USA 2007 at the 26th annual pageant held in New Jersey.
Richa will now represent US at the 17th annual Miss India Worldwide pageant, organised by India Festival Committee (IFC), on Feb 23 in Johannesburg, South Africa.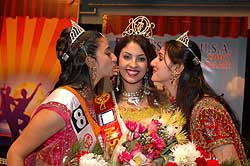 Richa, 21, is in her final year at the Michigan State University majoring in Dietetics and Nutrition and enjoys dance, music, movies and teaching children about health and nutrition. Richa also won the title of Miss Photogenic. She was crowned by outgoing queen Ayushka Singh.
Neha Multani, 22, of New York and Nisha Palvia, 18, of Georgia were respectively declared first and second runners up among 24 contestants from various parts of the US.
At the pageant all contestants took part in the Indian dress and evening gown segment. In the talent round, the top 10 presented Bollywood dances, kathak, bharatanatyam, violin as well as poetry recitation and singing.
Miss India USA is the longest running Indian pageant outside of India. The twenty-sixth annual pageant was organized by the New York-based IFC, headed by Dharmatma Saran, Founder and the Chief Organizer of the Pageant, in association with Royal Albert's Palace. Nationwide, the financial services firm, was the title sponsor of the pageant.
IFC was founded by Dharmatma Saran in 1974 to conduct Indian beauty pageants and fashion shows. IFC's affiliates in 20 countries of the Indian diaspora hold their own beauty pageants and send representatives for Miss India Worldwide.