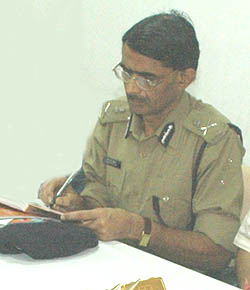 (Bihar Times): Last Monday it was the first appearance in chief minister's Janata Durbar for the new state director general of police, D N Gautam. But the media-persons present on the occasion observed his style of functioning different from his two predecessors. The following morning almost all the dailies highlighted that it was he who stole the show.

However, by the time the readers read the newspaper piece on the new DGP the police, according to the many ruling party leaders, went berserk and brutally thrashed the workers of the Akhil Bharatiya Vidyarthi Parishad outside the house of the human resources development minister, Hari Narayan Singh. The ABVP men had reasons to feel cheated as never in the 15 years of Lalu-Rabri rule were they so mercilessly beaten both by police and plain clothes men.

Lathi-charge on the streets of Patna is not a rare spectacle. But the one on the activists of the alliance partner can be explained by many that the new DGP does not allow politics to intervene in his style of functioning. They were caned because they simply took the law into their hands, may be the logic.

The 1974 batch IPS, originally from Hamirpur in Uttar Pradesh, is the first non-Bihari DGP after Narayan Mishra. He might have no caste or party affiliation in the nasty state politics, yet it is a long way to go. He had to show his performance in just one year. Whether he succeeds or not is a different matter yet the truth is that his past record is good. As the superintendent of police of Rohtas way back in the mid-1970s he earned the reputation of no-nonsense officer.

On Monday too he was heard telling SPs that he wants result. To one of them he said he did not believe in kurki-zabti. But he was not just blunt. In between he gave some pep talks to them as well. He told them that he wants action against those refusing FIRs. Refusing FIRs amount to a doctor refusing to examine a patient.


Though there were a number of complaints the one which was really shocking and surprising was that of CRPF constable Mahesh Pandit's wife. She met the DGP to complain that her 13-year-old daughter Shabnam Kumari was abducted five months ago and police were doing little to find her. Gautam asked the official concerned to show the result by recovering the girl. He said that he was simply amazed that a CRPF man is getting such a treatment here.

Almost similar is the case of Mahendra Singh of Makhdoompur block under Jehanabad district, who complained that his wife was abducted but the police did not accept the FIR.

The case of 11-year old girl, Meeni, and her mother from Mehsi (East Champaran) enraged the DGP, who asked the SP to get the matter thoroughly inquired by an honest officer. The girl was fired upon and hit on the abdomen by three policemen in plainclothes in 2006. Not only that the policemen refused to accept their FIR and instead implicated them in a false case.

The above examples were enough to explain how difficult the task is for the new DGP. But he had something to say. According to him the number of police cases has increased manifold after the panchayat elections and most of them are false. Even the number of rape cases has increased but after an inquiry in five districts, 53 per cent cases were found to be fabricated. But it is the duty of police to investigate each and every case, he said.

The bottom line tells all.

I really appreciate Mr. Nitish kumar to bring him as DG. Generally politicians do not like these kind of officers. I am sure he is going to take action against the tainted politician like the one Mohammad Shahabuddin, the MP of Siwan, the big traitor.
Pranesh Sinha,
Fairfax,USA
--------------------
We have neen hearing about Mr DN Gautam since our childhood days ,when he used to be the SP of Munger and Rohtas .He was a tough man and a very sincere and honest officer.We all know that he is the same guy today also with the same toughness .But time has changed and the criminals now carry sophisticated weapons like SLR's and AK 47's .How equipped is Bihar Police force to counter these criminals .How he will deal with those law breaking people who is being sheltered with politicians of all parties .There are so many criminal turned politician who are calling the shots in Bihar.After being convicted also ,they can threat anybody from inside the jail also by using mobile phones.This is the story of capital patna .But we all know that the situation in other parts of Bihar is more bad.
I would request Mr DN Gautam to act tough with these people and try to equipped Bihar Police with modern weapons so that they can act with confidence without any fear ,and there should be absolutely no interfear from poloticians in the work of the police.The SP's should be given the free hand to deal with any criminals .I wish Mr Gautam all the best in his efforts to free Bihar from crime rate.
Arun Sinha
arun.sinha@allegroadvisors.com
-------------------------------------
D N Gautams-Are they really so rare
Mr D N Gautam must be great but what a shame this news brings to Bihar or for that matter the country!
Here, in UK, a dishonest , corrupt and incompetent officer makes the news and back home a competent and strict person has become a celebrity.Are they really so rare?

--
Vinod Ojha
Haslington,
UK
ojha@doctors.org.uk
----------------------------
Mr Soroor Ahmed has posed a biger challenge to Mr Gautaum than his official role as supreme commander of the bihar police force, the challenge what Mr Ahmed has posed for the DGP is to keep his reputaion mainatined as a dignified police officer by any standard
the vison of his mission should be focused on the following issues,

1 curbing the political interefernce in the official matters.
2.make cheap and easy access of the mass to the custodian of the law, as a confidence building measure
3. up keep and modernize the standard of the police force.
4. welfare of the staff in the uniform, so that usual scene of taking bribe by the traffic consatble from the passing by truck should be a history

Treatment of the ABVP workers by the police recently, as. Mr Ahmed describes probably was a part of his constrcutive measure in quest of his excellence as decribed earlier, only time will prove what brings Mr Gautum a name & fame or a disgarce.
Mr Gautum should , "face the situation fearlessly soon there be no situation to face" Will he?

Dr Anwer Ahsan
Dept of Pedsurgery,MCH
Dammam, KSA
email; ahsan_drpedsurg@hotmail.com
----------------------------------
Being a residence of Rotas district where our Hon'ble DGP served and earned a reputation of being dry honest and dedicated cops, I appreciate first of all to government who has given him chance to serve grieved and caste inflicted state where police has been made mediums to grab simply vote and stay in power. I think that big challenge before our DGP is to make police officials professional and change theirs mindset of culture of corruption, castesim, and colonism that is rampant in police.
Dr.N.K.Tiwari
nand_nitk@rediffmail.com
----------------------------------
Can he modernize the police force to boost their confidence? As old Arm & ammunition, vehicle will not lift the moral of state police. They need resource to fight with goons who has latest weapons and communication technique.
Let us imagine a recent case outside Bihar, How equipped is our police to solve it, do they know latest in forensic science or investigation technique. Obivous answer is no..
They are supposed to protect but are they protected. I feel Mr Gautam will do something in this direction.
Rakesh Ranjan
Project Manager
Birlasoft