(Bihar Times) He changes his political colour faster than a chameleon; his political character takes shape more conveniently than an eel—or, it all appears so as the other day he was yanking full throttle on his home turf that he would not makeup with his bete noire Lalu Prasad at least in this lifetime but the soon he was seen serving food to Lalu's plate in pictures.
Lok Janshakti Party chief Ram Vilas Paswan is a politician married strongly with political convenience and opportunism apparently to keep his family going smooth and luxury. The party he runs is essentially his family what he cares for; the principles what he talks is what he means power for him and his family and the speeches what he makes in Bihar are what he means to fool his voters.
Come election time and Paswan plunges into political pond and start fishing for a possible poll alliance fixing his eyes only on a ministerial berth for himself, a seat for his brother, one more seat for his one of a relative and an opportunity to play on his dalit card. If, anything comes in addition it is luxury for him.
According to a dalit activist in Bihar Paswan is the biggest fake dalit leader of the country who cuts his birthday cake in New York and gets the pictures published in national newspapers.
"Since he comes from a dalit background he identifies himself with them for the votebank but things now have changed in the state's political scenario and Paswan will get a taste of it in the coming Lok Sabha poll", rued Maheshwar Prasad, a dalit activist from Danapur.
"What Paswan says is what Paswan doesn't mean", Prasad said further.
For the last four years Paswan has been yelling his displeasure & distaste over his arch rival RJD boss Lalu Prasad citing various reasons so much so that people of the state started taking bet on his declarations.
Soon after the trust vote when he came out with Lalu Prasad before media putting brave face Paswan came to Bihar and visited Maner to address a public meeting. He again thundered in presence of people and party leaders that he would never go along with Lalu Prasad who had backstabbed him time and again.
"Lalu Prasad ne pith mein chhura ghopne ka kaam kiya hain, Main backstabbing ki politics nahi karta", Paswan declared in the rally while announcing the name of party's national vice-president Ranjan Yadav as LJP candidate from Patliputra in the coming Lok Sbha poll.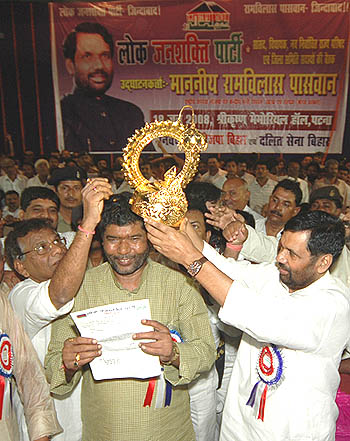 Earlier, Paswan though had ditched Ranjan Yadav in the RS poll when he supported the controversial RJD candidate. Ranjan Yadav was all set and tipped for the fifth seat but lo Paswan switched to his real political self of changing colour and character and put his weight behind the RJD candidate.
Ranjan Yadav who has relentlessly been trying hard to galvanize yadav caste in party's favour and against Lalu Prasad through his Yadav Jagran Manch was shockingly left in lurch. The otherwise verbose Ranjan Yadav kept mum for reasons known to him.
But he felt paid back and obliged when Paswan openly he declare his name as party candidate from Patliputra in Maner meeting. Though, its different ball altogether that Ranjan Yadav himself is keen to contest the coming LS poll from the seat or not.
But, the message was loud and clear that LJP would not go into poll along with Lalu Prasad. Reports were written about and discussions were thrown that Paswan this time would stick to his words.
But all proved wrong just a few days after when the LJP chief was seen in the company of RJD and SP bosses Lalu Prasad and Mulayam Singh Yadav on a CD release press conference.
Not only the trio raised their hands in unison but Paswan was also seen serving food to Lalu's plate. The bonhomie displayed was faith betrayed and that charted a new chemistry and combination.
Paswan once again did exactly what he has mastered in his political career--- changing colour & character; stroking marriage of convenience, opportunism and what they now call, need-of-the-hour.
However, until now he has not come in the open with what he presented in pictures splashed in newspapers recently but who knows tomorrow might be an another day for Paswan.
And, joining hands with NDA could be more profitable than UPA. After all, Poll is parlous and Paswan likes to play it safe!