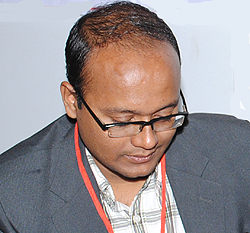 i am taking the route of bihartimes to communicate with many current and future entrepreneur and well-wishers of bihar.

earn money writing amazon reviews
a cheque of rs 20,000 has been deposited in my company account three months back and it is not credited till date. when we inquired the matter on january 27 and sent a person to sbi hilsa (the cheque was of this branch), we were astonished to find that they have debited other party account on 15 december 2010 and till date they have not sent the amount to dena bank (my banker in patna). they will courier the cheque now but i am not sure they will do that.
i know this would be a trivial issue for most of people on facebook but these small things which is having huge cost implication on company system has ruined many entrepreneurs in bihar in the past and we do not know whether we will survive this or not.
earn money writing amazon reviews
another case is of madhya bihar gramin bank (mbgb), kankarbagh branch, patna. mbgb is a rural regional bank. it sanctioned the loan for nine samriddhii ac carts to our nine vendors under the government scheme but they are not disbursing the amount and what i have been able to understand is that the bank is looking for some under the table dealing that we never do or promote.
the bank always procrastinate on this issue. the manufacturer of cart is sitting over my head and we are finding ourselves helpless.
earn money writing amazon reviews
there are many small things that impedes the growth of an entreprenuer in bihar. we cannot compete with entrepreneur of other states because other support services comes at huge indirect and direct cost.

* kaushalendra is an iima alumnus and has started his own supply chain of vegetables in patna.
also read...
earn money writing amazon reviews
first of all congratulations to bihartimes team for this very useful idea of experience-based article from the proverbial common man.

i hope "inclusive growth man" (ironically industrially barren state has growth man at helm, but i have hope for bihar this time) is looking into cases like this. when as basic a thing as crediting cheque can be at whims of some corrupt clerk in a government bank then to expect investment from outside will remain a chimera. some like kaushalendra driven by love for bihar and bihari pride would still invest and brave these grand canyon size foot holes but in general investors with better investment environment opportunity will not bother. after all business is not charity. i hope the proposed legislation where a govt servant has to provide service within some fixed time becomes a reality. if a rule is in place to either explicitly deny or provide service; this ubiquitous tool of procrastination will be difficult to use.every government servant does this.
here i would like to share my own experience. it has not to do with business practice per se but certainly relevant how things work in our beloved bihar.sometime back i, while visiting bihar, was thrown behind bars at behest of some local hanger-ons of police station with whom we have some long-standing property dispute. police officer knew he has nothing to press any charge so he tried to threaten me and put a demand of $2000. i flatly refused meanwhile my brother pulled some strings and daroga jee had to let me go.

i formally complained about this incident to every office i could think of from cm to superintendent of police. i am told local policewallah didn't like it. from then on every routine thing for us gets blocked. for instance my brother's police verification report for passport (file no. a021485-08, submission date: 18-02-2008) is stuck somewhere in that cauldron of government office. he sent an rti and got the details of police verification file dispatch no: 2604 dated 09-12-2009; stuck in sp office. he paid a visit to sp office and was told that it will be sent. but to no avail still police verification is stuck in sp office. now these people know they can't give bad report whimsically so they use the tool of indefinite procrastination. i have been telling my brother to send another rti to sp office but seeing news of rti query-men getting killed left right and centre he is having second thoughts.

this is the reality of so-called law and order in bihar. same passport one gets within few months in delhi.

i have noticed even our cm shri nitish kumar has started getting invitation from business school for lecture just like yester-year leader shri laloo prasad yadav. as much happy as i am hoping to see news like this enabling some thrust of business in bihar, i am afraid getting recognition before delivering on business front is going to be his kryptonite just like his predecessor. after all, there is a saying fish starts to rot from head.

i am appealing to our respected cm please expedite that "guarantee of public service" bill that is going to usher a new era of change in bihar. roads/schools/hospitals are fine now bihar needs another leap.
i am appealing to our respected cm please expedite that "guarantee of public service" bill that is going to usher a new era of change in bihar. roads/schools/hospitals are fine now bihar needs another leap.

anil
----------------------------------------------------------
thanks a lot to all respondents for offering suggestions. including all costs in system and then passing it to customers or charging on products is easier said than done.
i have not travelled the whole world but a few states. states like gujarat are growing fast and are heaven for entrepreneurs because systematic costs & costs related to getting services from external agencies (especially govt. & public sector enterprises) are much lower than other state.
like others i also dream of seeing bihar as a developed state and that's why i am here. pointing some problems in system does not mean that i am against somebody or some government or some people. being a bihari, i am an integral part of this bihar family & have right to point out problems which have become bottlenecks in development.
and i belief bihartimes has started ground zero column with above intentions.

regards
earn money writing amazon reviews
www.kaushalyafoundation.org
------------------------------------------------------------------
hats off to you & your efforts. i've heard a lot about you and must say you are doing a commendable job through samriddhii. the friction will always be there, good & evil existed during ram-rajya & its existing even today. good luck.
earn money writing amazon reviews
--------------------------------------------------
dear kaushalendra ji,
i salute your guts and courage to start your own supply chain of vegetables in patna, but i am not sure whether it was an emotional decision or it was a viable business proposition that you invasion. if you believe that it's a right business opportunity than i think what you are facing are the part-and-parcel of any business - called business constraints.
these constraints are always there in some form or other; and as an entrepreneur we need to find ways to overcomes these.
i have faced challenges like these throughout & at all places (india, aboard) i had been. i am not sure you have intendent in finding the solution through this channel? if it is then here is something i can suggest you -
1. understand your business opportunities & challenges better and plan in-advance of these business challenges.
1. understand your business opportunities & challenges better and plan in-advance of these business challenges.
2. create a contingency plan and allocate adequate fund to mitigate these risks
3. build your network with people you got to deal with including gov employees, banks, politicians etc
4. allocate sufficient fund for marketing & socializing with your network. these spending should be included in the cost of the product or service you provide
you are a highly talented guy and i am you might already be knowing all these.
do you know sramana mitra? if not, then i would recommend you to go to http://www.sramanamitra.com/ , this might help you in bulding the strategies, you should participate 1m/1m session.

earn money writing amazon reviews
--------------------------------------------------
hi kaushalendra,
i show your enterprenurial venture and really appreciate it.
me, a bangalore techie working for a mnc and toying with the idea to have my own venture soon there in bihar.
i understand the pain and the frustration you would be going through , when you have to struggle for these minor irritanats.
you know the reason is the age of 'corruption,dishonesty and inefficiency' in bihar.
so, all these was started with the political systems and buerocrats years ago ( may be late 70's).
and, slowly tricked down to all govt dept and finally to almost all social life.
but, dont worry we will have to keep trying hard and dont leave it to those kind of elements.
i suggest some practical measures.
1. form a group
a) physical group of people same field and a larger group of all young business guys.
b) internet group/blog/forums of similar kind.
2. have regular meetings ( at least in a month).
a) talk to the people concerned and the parties concerned ( banks,govt. depts, etc).
3. involve some big known faces ( may be out of bihar business guys also). to make it more attractive.
4. try and ask people for all creative idea to make people believ that 'there are ways to do business and job honestly, provided they give chance and believ in that'
well, the last is the most imp.
all said and done, but need to practice it.
involve me too, if you like these ideas and let see what best we can change.
earn money writing amazon reviews
----------------------

i have faced similar experience in dealing with banks. every employee, particularly of public enterprise expects something for himself to work. the service act and its implementation may be answer where an action is taken against the individual or institution if the work is not done within a time frame. the work culture of individuals who get employed must improve, otherwise bihar will not reach anywhere. all of it can't be done by nitish. the people of bihar must work and must demand others to work.
indra r. sharma