Sonepur (Bihar), Dec 12 Call it horse power if you will. Forget about Pajeros or even the humbler Bolero vehicles, village heads in rural Bihar are doling out hundreds of thousands of rupees to acquire steeds as prized symbols of status in a society still mired in feudalism.

Since Nov 27, when Asia's largest cattle fair began in Sonepur, about 30 km from here, more than 60 horses have been sold. And in a first of sorts, most have been bought by village heads, or mukhiyas as they are known.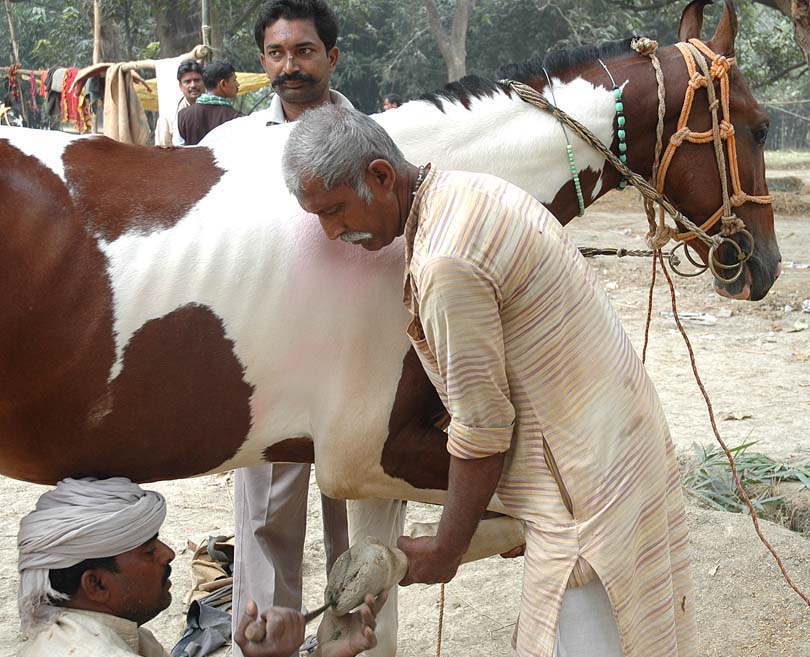 "Yes, I purchased a horse. It is a symbol of possessing something different," Doman Rai, a mukhiya from a panchayat in Samastipur district, told IANS.

Shiv Dayal Rai, a mukhiya, a village head, from neighbouring Vaishali district, said most horses this time had been bought by mukhiyas, some spending as much as Rs.10 lakh to Rs.11 lakh.

"It is more than the cost of a Bolero. Some of them purchased two horses, which is no less than what a Pajero would cost," Rai told IANS.

Horse traders say more than 60 horses have been sold, mostly to village heads, and the numbers are rising as the fair goes on for a month.

"If this trend is anything to go by, the number of horses sold at the fair will touch over 100," said Jitendra Kumar, who sold two white horses, both to mukhiyas.

"It appears that mukhiyas this time are crazy about purchasing horses," Amrendra Yadav, who has sold three horses, told IANS.

Another horse trader, Naresh Kumar, estimates that more than a dozen white horses have gone to village heads this time.

According to Hindu priest Sushil Kumar Shastri, the demand for white horses is high because they are associated with age-old religious rituals.

"White horses are a symbol of prosperity, well-being and power," he said.

The reason why mukhiya Sher Singh bought a white horse? He was advised by an astrologer to keep a white horse for material and political gains.

The equine trend also puts the spotlight on allegations of corruption against village heads. In August this year, then union rural development minister Jairam Ramesh recalled that Bihar Chief Minister Nitish Kumar had once told him that mukhiyas in the state were purchasing expensive vehicles like Boleros and Pajeros from funds allocated for the Mahatma Gandhi National Rural Employment Guarantee Scheme (MGNREGS).

The perception is that many mukhiyas who were struggling for survival just a few years ago are now proud owners of Boleros and the like thanks to widespread corruption in centrally sponsored welfare schemes.

In several districts, they also run their own businesses and contracts to make more money.

The state has 8,442 village body heads, 8,422 sarpanchs, 115,542 panchayat members, 11,534 panchayat samiti members and 1,162 zila parishad members.

With horses becoming the latest status symbol, in a rewind of sorts to an earlier age, grassroots politics and the cattle fair have conflated this year.

The nearly month-long Sonepur cattle fair, spread across 500 acres near the confluence of two rivers - the Ganga and the Gandak - has been held every year for centuries. It attracts cattle traders from India as well as abroad.

The fair, which begins on the auspicious Kartik Purnima day, is perhaps the only one of its kind in the entire subcontinent where many birds and animals - including parrots, eagles, elephants, horses, sheep, goats and buffaloes - are bought and sold.

Tourists from Britain, France, the Netherlands and other countries have begun arriving for the event. An elegant tourist village has been made to lodge them.

A few years ago, the fair hit the headlines when Rashtriya Janata Dal chief Lalu Prasad's horse Pawan, earlier bought by a farmer for Rs.101,000, was resold to Bihar's ruling Janata Dal-United legislator Anant Singh for Rs.111,000.