new delhi, dec 23 (ians) mass protests for the third straight day sunday against the gang-rape of a young woman turned violent here, leaving scores injured, including one policeman in critical condition, and turning the india gate area into a virtual war zone.
police and paramilitary personnel liberally used batons and tear gas to chase away thousands after the emotionally charged protests during the day descended into chaos by evening.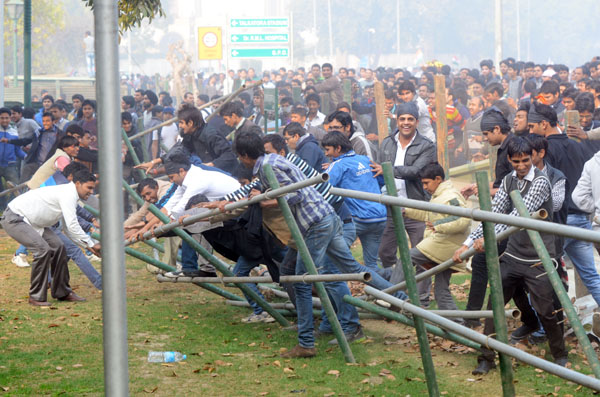 prime minister manmohan singh said there was "genuine and justified anger and anguish at this ghastly incident" but appealed for calm and assured that "all possible efforts" would be taken to ensure security and safety of women in the country.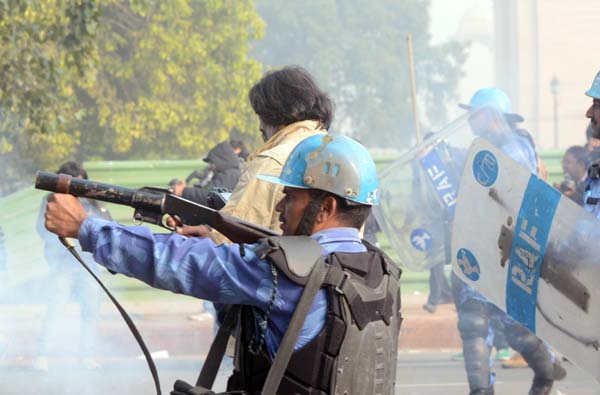 "i appeal to all concerned citizens to maintain peace and calm," he said, according to a tweet by the prime minister's office.

the 23-year-old victim was sunday put back on the ventilator and her condition remains critical, though she is conscious and communicating, doctors said. her platelet condition has dipped further - an indication of infection, the doctors said.

the protests, largely by students, saw hooligan elements mingled in the crowd uproot wooden poles erected for the jan 26 republic day event and set them afire at five places.

they upturned vehicles, smashed window panes of buses and other vehicles and also hurled stones and water bottles on policemen in response to tear gas and baton attacks to prevent protesters from marching towards raisina hills, where prohibitory orders were put in place.

by night, roads in the area were littered with sandals, shoes, books, hand-held banners, bags and water bottles, left behind by those who fled the protest site in panic due to the baton charge.

special commissioner of police dharmendra kumar urged all protesters to head home as security forces cleared street after street once darkness set in.

"the movement has been taken over by hooligans," he said. "we want people to go home so that we can isolate the hooligans."

although a large number dispersed from the area, which includes the stately hyderabad house which russian president vladimir putin would visit monday, a few hundred remained rooted near india gate, a world war i monument flanked by lush green lawns.

a police constable was seriously injured in the stoning. delhi police commissioner neeraj kumar said it was "unfortunate" that police had to use force against the protesters but the situation warranted the action.

as many as 143 people, including 78 police personnel, were injured at india gate.

two of the dec 16 gang-rape accused told a delhi court once again that they had committed a horrible crime and "deserved to be hanged". they, however, refused to undergo an identification exercise.

metropolitan magistrate pawan kumar sent accused pawan gupta, 19, a fruit seller, vinay sharma, 20, an assistant gym instructor, and ram singh, the bus driver, to 14 days judicial custody, after police said that custodial interrogation was not required.

bharatiya janata party leader sushma swaraj urged the government to call a meeting of all political parties to discuss the rape.

delhi chief minister sheila dikshit appealed for calm and said providing security to public should take precedence over vip security.

"i want to emphasise, even if there is need to cut vip security, it should be done," dikshit told reporters after a meeting with union home minister sushilkumar shinde.

congress president sonia gandhi told a group of men and women -- her second meeting with protesters -- that the rapists would be tried quickly and also charged with attempt to murder.

sunday's protests also drew political activists. but most appeared to be people with no particular affiliation.

amid all this, yoga guru ramdev reached the jantar mantar protest site also in the city
centre standing atop a bus. later, many of his supporters made their way to india gate shouting slogans.

he demanded death sentence for the dec 16 rapists.

earlier in the day, thousands of young men and women engulfed the india gate area shouting "we want justice!" and demanding death to the five men and a young adult who raped the woman.

pallavi, a 25-year-old working for a multinational, told ians: "the government is sleeping... the law against rape must be stronger and should be implemented properly."

to prevent a repeat of saturday's events when people tried to march to rashtrapati bhavan, police barricaded all the roads leading to the place and government offices close by including the prime minister's office.

prohibitory orders banning the assembly of five or more people were clamped.

a large crowd also gathered outside the safdarjung hospital in solidarity with the rape victim.