patna, nov 4 (ians) chief minister nitish kumar sunday demanded a special status for bihar and other such states that lag behind the national averages for human development and economic growth.

"the central government should accord a special status to bihar and other states which are lagging behind the national average for growth indicators, to ensure their rapid development," nitish kumar said while addressing a rally here.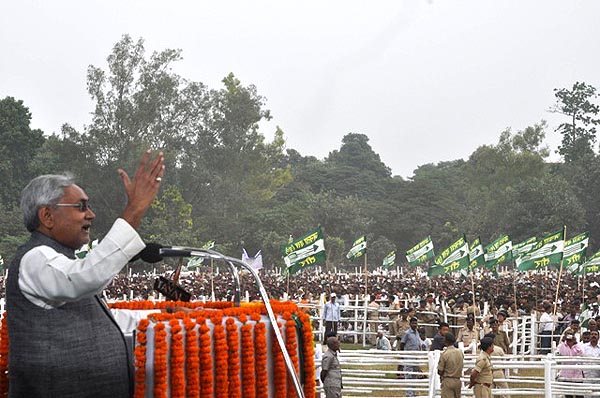 thousands of janata dal (united) supporters gathered at the sprawling gandhi maidan in the city for the "adhikar" rally called by the chief minister to seek a special status for bihar from the central government.

"bihar's per capita income, investment and consumption of electricity are lowest in the country. it lags behind in all human resource indices. to achieve the national average of economic growth, bihar must be accorded special category status," nitish kumar said.

he added that without special category status, bihar would take at least 25 years to touch the national average of economic growth.

"bihar's 10.5 crore people, especially youths, are not ready to wait for 25 years," he said, "we will fight for it."

nitish kumar announced that his party, the ruling janata dal (united), will organise a rally at the ramlila ground in new delhi in march next year to put pressure on the central government to heed to the state's demand.

"there is no doubt that bihar is developing fast. last year our growth rate was more than 16 percent. but it is high time the central government should help the state by giving it a special category status because it is still a backward state," he said.

jd-u national president sharad yadav and several senior party leaders were also present at the rally. the party booked eight special trains and about 10,000 buses to ferry supporters from across the state for the rally.

the adhikar rally is the first public meeting called by nitish kumar in the state capital since taking over as the chief minister in november 2005. the rally was also the culmination of his over month-long "adhikar yatra" -- rights march -- through districts of the state.