| | |
| --- | --- |
| | the two engineers at the top of the janata dal (united), nitish kumar and sharad yadav spoke for 39 and 16 minutes respectively to explain the need of the special status category for bihar. |
though nitish did not deem it fit to train his gun on his political opponents in bihar, lalu yadav and ram vilas paswan, during the speech and only targeted the congress-led upa for neglecting the state sharad spent half his time contradicting his past.

perhaps he was not aware as to what was he speaking and what the actual message was. he started his speech accusing the central government of creating jharkhand, chhattisgarh and uttarakhand not knowing that he himself was the union minister in the vajpayee cabinet then.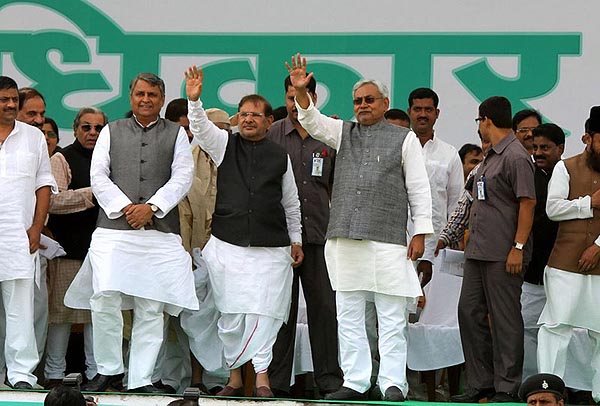 batwara tum ne kiya, dilli sarkar ne kiya, is ki saza bihar nahin bhukte ga. (it was you who bifurcated. the government of delhi did it. why should bihar be punished for it.). public memory is proverbial short. the janata dal (united) can now say that nitish kumar did not oppose the special status category for bihar then demanded by the rabri devi government. but how can it be denied that sharad yadav was the civil aviation minister, nitish kumar was agriculture minister and george fernandes defence minister on november 15, 2000, when jharkhand came into being.

if bihar was really getting punished than what was he then doing. apart from sharad, george and nitish there were seven more ministers from the then united bihar in the union cabinet––most of them of janata dal (united). why they all allowed injustice to happen? is not it the fact that along with the jmm and other jharkhand parties the bjp was in the forefront of the demand for a separate state, which it used to call vananchal.

sharad has more to answer than others. after all the three states which, according to him, were bifurcated by the centre had been related to his personal life. he was born and educated in madhya pradesh, did his politics earlier in uttar pradesh and than in bihar. he had contested elections from all these three states, yet he allowed injustice to happen on all three.

according to article 3 (a) of indian constitution "parliament may by law form a new state by separation of territory from any state or by uniting two or more states or parts of states or by uniting any territory to a part of any state."

he, nitish, george and all others were not only mps but senior ministers in the cabinet. in contrast it was the rjd chief lalu prasad yadav, who initially opposed the bifurcation of bihar. his famous one-liner "jharkhand over my dead body" was strongly criticized by the jharkhand parties and the bjp then.

however, lalu too relented later. when there was hung assembly after feb 2000 assembly election the congress made the creation of jharkhand as one of the conditions to support the rabri devi government. it was only than that the bihar assembly passed a resolution in this regard. however, the resolution does not carry much meaning as the power to create new state or alter boundary lies with the centre and not any state.

so if sharad needs to explain what he actually wanted to say on adhikar rally day nitish too went on to say something which is factually not correct. he more than once said that the states which got the special status had developed much when the fact is that seven of the 10 states which fall in this category are of the north-east. none of these states can be called developed even after so many years. in fact the increase in central grant has only opened a floodgate of corruption and loot in them and several outfits cropped up for this very purpose.