| | |
| --- | --- |
| | patna,(bihartimes): what was said at the cpi ml's parivartan rally was certainly important––the speakers roundly criticized the downright corrupt nitish kumar government for its utter failure and upa in centre for dancing to the tune of the capitalist us. |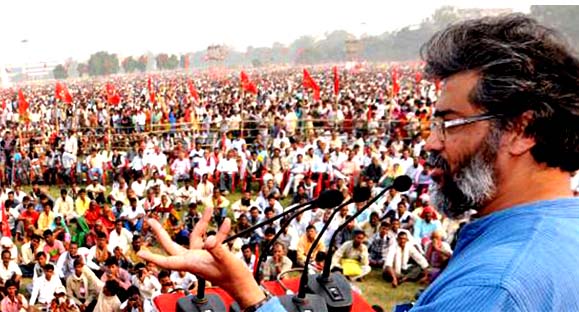 but what was more significant was that, within five days, it completely neutralized the impact of the november 4 adhikar rally of janata dal (united). without indulging in any debate on head-count one can say that the friday's rally was full of enthusiasm and zeal. the crowd was disciplined but no doubt responsive too.

the show by dipankar bhattacharya's outfit was definitely massive and that too with hardly any resources. no train was booked––eight for november 4 rally––no traffic was stopped at mahatma gandhi setu as on nov 3-4 and no body missed the exam––a couple of thousands of staff selection aspirants on nov 4. true it caused traffic jam in patna on friday afternoon, yet it should also be accepted that there was no 10,000 policemen to man the show as on nov 4.

the party did not hire 15,000 buses besides equally large number of small vehicles. no extortion call was made from jail. no hoarding of leaders of questionable past was put up anywhere in patna. there was no arrangement for free food and night stay at ministerial bungalows nor was there any drama at any legislator's flat––in fact the cpi ml has not a single mla in the bihar assembly.

yet the generation which grew up in 21st century and did not witness the rallies of 1990s or 1970s––of jp days––were surprised by the sheer size. all out of sudden the claim of nov 4 gathering as the mother of all the rallies got exposed.

sooner than later the nov 9 cpi ml rally has silenced the media propaganda about nov 4 rally. now the janata dal (united) ministers, legislatures and workers have been rendered speechless. they have no word to make further claim. after all ever since nov 4––god knows why––none of them, even nitish kumar, has spoken a word on the special status category. perhaps, after an introspection the party realized the failure in serving the political objective. nitish kumar's concluding message that his party would support anyone in 2014 who promises the special status category confused the whole picture. then what about alliance with the bjp?

not only that: on friday speaker after speaker effectively exposed the double standards of nitish kumar, who according to the cpi ml general secretary, dipankar bhattacharya, was one who stiffly opposed the earlier demand of the special status when he was in the vajpayee cabinet.

dipankar did not stop there. he said there are some new jagirdars who are now thinking that bihar is their jagir. now that the upa has failed in the centre and nda in bihar it is time for the third alternative to fill the vacuum, and that would be filled by the left parties, he added.

he said that the lies of nitish kumar is not going to serve any purpose now. thanking the people of the state he asked them to be ready for a bigger battle ahead. he paid tributes to the martyrs and those who are in jails.

he said in the name of development the land of poor people are being taken. the bandhyopadhayay commission's recommendations regarding land reforms and sharecroppers right have been shelved.

there is complete lawlessness in the state. loot, dacoities, gang rapes, murder, kidnapping are quite rampant. there is big rise in atrocities on dalits and women in the last seven years, yet nitish kumar is least bothered about them and is repeatedly claiming that bihar has changed.

extortionists had shown their ugly faces during the recent adhikar rally.

he made special mention of june 3, 2011 police brutality at forbesganj and also flayed police firing and lathicharge in madhubani, aurangabad, pariya in gaya and several other places.

dipankar also said that the patna high court's verdict overturning the convictions of all the accused in the bathani tola massacre case, is a judicial massacre of justice. the role of nitish government in the whole matter has come under a cloud of suspicion, he added.

those who also spoke on the occasion included party leaders swadesh bhattacharya, kartik paul, kavita krishnan, dhirendra k jha, vinod k singh mla (bagodar jharkhand), bhim rao bansorh, lal nishan party (leninist), maharashtra, mangat ram pashla, popular communist leader from punjab, swapan mukherjee, trade union leader and shakeel anjum, general secretary, jnusu.

rajendra singh, bihar state secretary of cpi and vijay kant thakur, state secretary of cpm also shared dais.

two former bihar ministers, hind kesari yadav, ramdeo singh and a former union minister devendra yadav also spoke.

hind kesari, who is in 70s, showed the marks on his body, which he suffered after the liquor traders publicly thrashed him on the premises of muzaffarpur collectorate, yet the police did precisely little to save him.

the party also adopted eight resolutions in which it demanded that anti-poor, anti-peasant policies be scrapped without delay, and thorough going land reforms, peasant based industries and irrigation be established immediately.

it also called upon students to defeat the anti-student, anti-education government of delhi and patna in the forthcoming student union polls.
comments powered by