| | |
| --- | --- |
| | patna, nov 17 (ians) chhath, the four-day festival of bihar, began early saturday amid tight security with hundreds of thousands of devotees, mainly married women, thronging river banks and water bodies for a ritual bath before cooking a traditional meal. |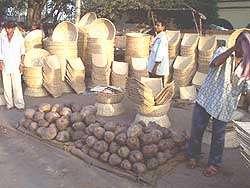 "the much-awaited chhath has formally started with the age-old ritual of nahai-khai - preparing traditional food after the bath - across thousands of villages and hundreds of towns spread all over the state," vinita singh, a devotee busy preparing the ritual meal of boiled rice and pumpkin on a hand-made earthen hearth after a bath in the ganga said.

dressed in a new cotton sari, vinita said "nahai-khai" symbolises purity and discipline.

"we use only dry wood from mango trees and bamboo baskets for cooking the traditional meal on the first day of chhath," another devotee, sarda devi, said.

in patna alone, hundreds of roadside vendors, mostly poor men and women, sold the items that go into the chhath celebrations.

on sunday, the second day of chhath, 'kharna', another ritual, will be observed, as the sweet dish called 'kheer' is cooked and distributed among neighbours, friends and relatives.

the main offering - argya - when devotees stand waist-deep in water, offering prayers to the sun god on the banks of rivers or other water bodies, will take place monday.

chhath, celebrated six days after diwali, is a time of worship of the sun god.

during the festival, married women observe a fast for 36 hours and devotees offer wheat, milk, sugarcane, bananas and coconuts to the sun.

the administration has set to work, along with dozens of voluntary organisations, to clean the roads leading to the banks of rivers ahead of the festival.

district authorities have declared 32 'ghats' in patna unsafe and dangerous. there are over 70 ghats along the ganges in patna.

"all district magistrates have been directed by (chief minister) nitish kumar to accord top priority to the safety of devotees," an official said.

over the years, chhath has come to be closely identified with bihar - on the lines of bihu in assam, pongal in tamil nadu and the ganesh festival in maharashtra.