| | |
| --- | --- |
| | patna,(bihartimes): chief minister nitish kumar refuted the charge that the tragedy which took place in the adalat ghat on monday evening was not due to the collapse of the makeshift bamboo bridge but because of the stampede. |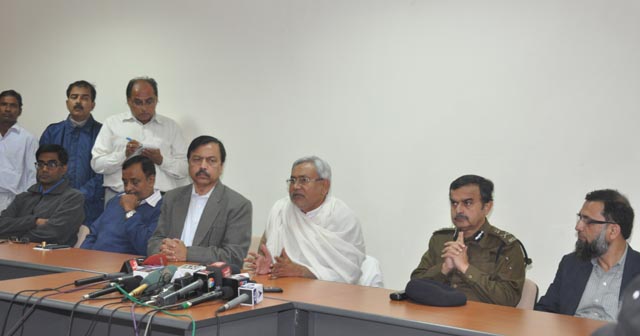 talking to the media late on monday night the chief minister said that when he got the news of the accident at about 7:00 pm he rushed all the top administrative and police officials to the spot as well as hospital. the road construction department secretary, pritya amrit, visited the spot to see the bridge while the health secretary, anjani kumar singh and dgp abhayanand went to the pmch. other senior officials too inspected the two bamboo bridges and a pontoon bridge built recently. since there was power cut at the time of stampede a senior official of the bihar state electricity board was also sent to the spot, he added.

nitish said that all the officials are unanimous that the mishap took place due to stampede and not because of the bridge collapse. he said that as to why the stampede took place is subject to investigation and he had asked the home secretary, amir subhani, to make a thorough probe into the matter. only then the responsibility would be fixed and action would be taken.

he announced payment of rs 1.50 lakh to all those who died of the accident and rs 50,000 from the chief minister relief fund. however, he refused to say as to how many people had lost their lives and asked the chief secretary, ashok kumar sinha, to say as to what is the death toll. sinha, however, said that as per the information given to him by the health secretary there are only five bodies in pmch and five in magadh hospital.

the chief minister appealed to the media to help people complete there fast as half of chhath is still not over. it would be at the same place that arghya would be performed at the time of sunrise on tuesday morning.

he urged the people to allow the doctors to treat the patients.

condoling the death he said that it was only a few minutes before the tragedy that he visited all these places. it is unfortunate that such a happy and auspicious occasion soon turned into such a tragedy, he lamented.

he assured the people that all efforts are being made to strengthen the bridges so that the devotees could pass through easily on tuesday morning.