| | |
| --- | --- |
| | Patna,(BiharTimes): For the first time after Nov 4 Adhikar Rally Bihar chief minister Nitish Kumar on Saturday once again raised the issue of special status category for Bihar. |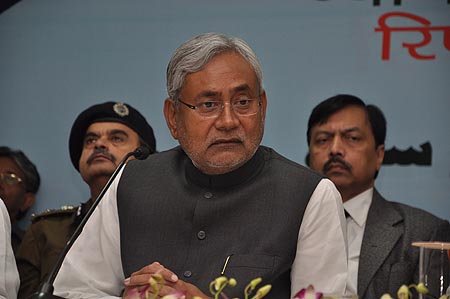 Releasing the annual report card on the occasion of the seventh anniversary of his government he held the Centre responsible for creation of islands of growth. Its policy had left vast chunk of states having poor infrastructure like Bihar much behind. The chief minister added that inclusive growth cannot be achieved unless and until underdeveloped states like Bihar and others are given special emphasis in plans. It is because of this reason that he is pitching so strongly for grant of special status to Bihar.

He also called for special strategies for states like Bihar that are below the national average in development indices and their condition is reflected through per capita income and per capita plan expenditure among others.

He said he would try to organise these states to fight for their rights but denied that it would be aimed at building a grouping of politically important underdeveloped states.

Nitish said that since policy makers make plans keeping in mind the developed states, and leave underdeveloped states like Bihar to fend for themselves, there is fluctuating rate of development in the country.

The chief minister attributed under reporting of the number of poor as the main reason behind the non-success of welfare schemes meant for the people living Below the Povertu Line in the country.

Nitish asked unless and until you have authentic data on the poor how can the schemes meant for them succeed? He said the matter has been raised time and again at the National Development Council (NDC) meetings but the issue has remained unresolved.

The chief minister said the Planning Commission had recently adopted the strategy to assess poverty on the basis of socio-economic and caste census.