| | |
| --- | --- |
| | patna,(bihartimes): the bharatiya janata party leaders have been indulging in doublespeak so far the appointment of ranjit sinha as the director of the cbi is concerned. only the other day party's patna saheb mp, shatrughan sinha, welcomed his appointment on the plea that he is the senior-most and the deserving ips officer. ram jethmalani has even been suspended from the party for taking a similar stand. |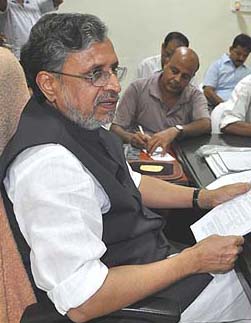 incidentally, the deputy chief minister of bihar, sushil kumar modi, who had in the past been repeatedly accusing ranjit sinha of shielding rjd chief lalu yadav during the fodder scam trial days, said on sunday that the ips officer has roots in bihar, therefore, it is a "matter of pride" for the state that he has become the cbi director.

however, during the entire fodder scam trial days it was none else but bihar's deputy chief minister, sushil kumar modi, who had been gunning for the then dig (cbi), ranjit sinha. it was repeatedly alleged by him that ranjit had been shielding rjd chief lalu yadav and other scamsters. even his lawyer raised the issue before the division bench of the patna high court which was monitoring the case.

as reported by bihartimes the then joint director (east) of cbi, u n biswas, had in oct 1990 submitted before the court that its headquarters was interfering with the investigation to protect politicians and bureaucrats.

even as late as july 20, 2001 as the leader of the opposition in the bihar assembly sushil modi, urged the then governor vinod chandra pande to direct the rabri devi government to remove the alleged "tainted officers" like ranjit sinha and a b prasad, ias, from delhi where they are currently posted as he feared that lalu yadav would try to "influence the outcome of the fodder scam investigation through these two officers."

while a b prasad was posted as resident commissioner in delhi sinha was officer on special duty at the bihar bhavan, a "newly created post", after the expiry of his term in the cbi, with a view to influencing the probes being conducted by the income-tax (i-t) department and the cbi respectively.

modi then also said that ranjit sinha, during his tenure as cbi dig, had openly sided with lalu in the fodder scam cases. exonerating laloo from the charges in the case nos rc-20/96 and rc-64/96, sinha had stated that no case could be made out against him.
"when central bjp leaders questioned the procedure of appointment then what prompted yashwant sinha and shatrughan sinha to come out openly in favoure of ranjit sinha"said a senior bjp leader.

but the stand now taken by modi or sinha or many other bjp leaders have come as a big surprise to the rank and file of the party.