| | |
| --- | --- |
| | washington, nov 26 (ians) chief minister of india's bihar state nitish kumar is the most prominent indian in a list of 100 top global thinkers for the year 2012 compiled by the foreign policy magazine. |

nobel laureate aung san suu kyi, who continues her struggle for democracy in myanmar, is ranked first on the list which also features us president barack obama, microsoft founder bill gates, former us president bill clinton and secretary of state hillary clinton.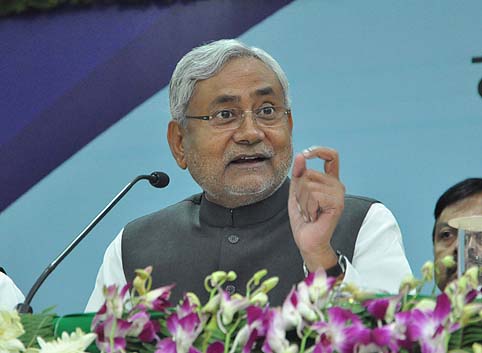 on nitish kumar, who features at no.77 in the list, the magazine says: "like haiti, somalia, and mississippi, india's bihar state has been called many unflattering names; it's often referred to as the country's 'bleakest state' and the 'jungle raj' for its colonial levels of poverty and corruption."

"many viewed it as one of the most dysfunctional corners of a country world famous for government dysfunction. much of that began to change, however, when a low-key bureaucrat from a local center-left party, nitish kumar, won the 2005 election and set out to clean up a wasteland where 100 million people are squeezed into a territory smaller than arkansas."

the magazine says nitish kumar, in his two terms in office, has relied "on an array of innovative programs to crack down on crime, shame corrupt public officials, and boost economic development".

in addition to setting up a special fast-track court system to move trials along more quickly, nitish kumar's administration has offered cash rewards to whistleblowers and has broadcast bribery complaints on youtube, it said.

he was also behind a law passed in 2011 that allows the bihar government to take control of "ill-gotten" land and, unless the owner is cleared in court, use it for schools and health clinics.

"he has overseen the construction of nearly 15,000 schools, hired 150,000 new teachers, launched a programme to give free bikes to girls so they can get to class, and distributed free radios to lower-caste citizens to 'listen to music, news, and improve your areas of information', as he put it," the magazine said.

with crime rates "finally plummeting" in bihar, and education rates rising, "there's no question these efforts have paid off".

in 2011, bihar was called india's "least corrupt" state, and this year the state's service- and agriculture-based economy was the country's "fastest-growing for the second year in a row", even as india's national economy is waning "and, with it, enthusiasm for prime minister manmohan singh".

"although kumar says he's not a candidate to replace singh, he is now being floated as a potential prime minister for 2014. quite a leap for the leader of a region once decried as a 'criminal fiefdom'," the magazine added.

there are also people of indian origin in the list. they include harvard university economist raj chetty, author salman rushdie, novelist pankaj mishra, canadian ricken patel of the civic organization avaaz, entrepreneur vivek wadhwa, morgan stanley managing director ruchir sharma, and chief economic advisor to india's finance ministry raghuram rajan.

the foreign policy magazine is published by the fp group, a division of the washington post company.