film: "talaash"; cast: aamir khan, rani mukerji, kareena kapoor, nawazuddin siddiqui and shernaz patel; director: reema kagti; rating: ****

aamir khan never ceases to surprise viewers. in "talaash", he does so quite literally. the succinctly written, complex screenplay, smoothly interlays between the police investigation and personal emotional turmoil of the characters make "talaash" a nail-biting thriller.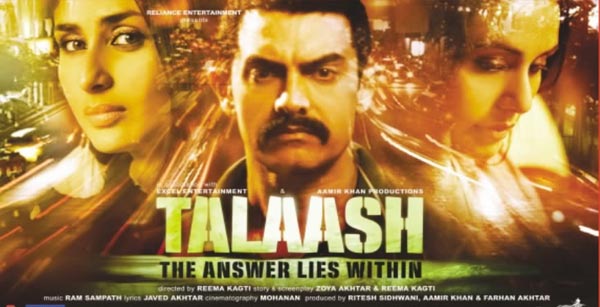 the plot about a police officer surjan singh shekhawat (aamir khan) investigating a high profile case of film star armaan kapoor's accidental death keeps you riveted. alongside the main plot, one gathers that shekhawat and his wife roshni (rani mukerji), have lost their eight-year-old son karan in a freak accident in a lake, for which shekhawat blames himself and lives in guilt.

his investigations constantly lead him to kareena kapoor, a prostitute with a good heart, who acts as the ace informer for shekhawat. kareena as rosy, has shades of her earlier "chameli", although she makes a conscious effort to be different. she is effective and convincing, touching your heart with the innate goodness of her character, in spite of her circumstances.

the mystery shrouding the case, unravels gradually in a carefully written tight script, with no loopholes. the film is entirely unpredictable, not conforming to the usual approach to thrillers in bollywood. this one is clearly different and keeps you guessing till the very end.

the climax brings you to the edge of your seat, but leaves you satiated. as the case unfolds, you get your answers from the characters on celluloid. but clearly, reema kagti and zoya akhtar, the scriptwriter duo, give you much more than just that. they take you through a complete self-exploratory journey and bring you back replete with answers. farhan akhtar's dialogues in colloquial parlance are witty and unleash several underlying messages.

ram sampath gives an apt background score, in keeping with the flavour of the film and if anything, only enhances the viewer's experience. music in the film otherwise is nothing to write home about, but you're definitely not complaining. the plot and performances leave no room for frivolities.

rani mukerji in her de-glam avatar, is true to her character as the distraught mother. nawazuddin siddiqui as taimur, the lame man friday in the brothel doing odd jobs, excels in a superbly written role. realistic performances and get ups of all the characters, add to the ingenuity of the plot.

the cinematography, though simple, captures the essence of mumbai. the locales of the city are wonderfully depicted, making those, a character in the film, rather than a mere backdrop.

devoid of the usual bollywood masala and gimmicks, this one is a pure treat. aamir khan's fans apart, "talaash" has the power to grip all cine-goers.