mumbai, oct 18 (ians) actor manoj bajpayee says his student days at delhi university came in handy in moulding his character as a naxalite in prakash jha's "chakravyuh".

"prakashji (jha), arjun (rampal) and i have studied in delhi university. it gets quite buzzing over there regarding marxism - some professors there are marxists, some students there have a marxist inclination and a lot of our studies have also been about this.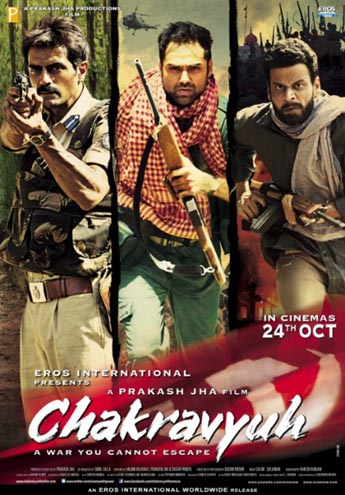 i used to do street theatres with them and also read a lot of literature because of them," the 43-year-old said here wednesday at a fictional maoist camp set up for the film promotion.
"so we have tried to mould my character on a similar basis, someone who can even debate in the un and he can be equally cruel to kill anybody. that combination of a naxal leader is something which is not only impressive but also threatening," he added.

manoj also shares his experience of meeting an old friend, who turned to naxalism.

"i had gone to my village three to four years back. my childhood friend had moved towards naxalism. so his gestures and way of talking had completely changed. he was talking the way a rebel does," manoj said.

"he wanted to meet me, but at the same time he also had this expression that he is now a part of a group that we hate," he added.

"chakravyuh" which also stars abhay deol and esha gupta and hits theatres dussehra, oct 24.