on the assembly election-eve bihar chief minister nitish kumar is going beyond gujarat. the destination is obviously pakistan, where many foreign dignitaries now fear to tread.

yet he would be in that country between november 9 and 16. as if there is not enough of fireworks there, nitish would be celebrating diwali in pakistan.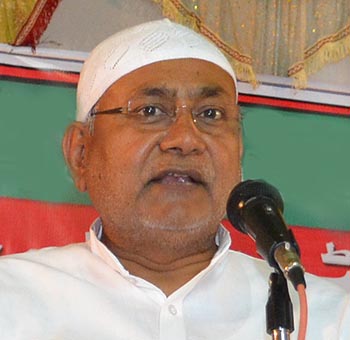 the visit to the western neighbour has come not in the best of times for him. all these weeks he had a very tight routine. the adhikar yatra had drained much of his energy––not just because of hectic tour, but because of the widespread protest it evoked. this would be followed by adhikar rally in patna on november 4 with the objective to demand the special status category for bihar. and without doing much follow up work on the rally he would soon be on way to pakistan.

apparently the tour is in response to the invitation he got from a pakistani parliamentary delegation, which visited bihar a couple of months back and extended invitation to him. it was led by senior ppp leader jahangir badr.

but political observers are of the view that nitish wanted to keep himself too much preoccupied so that he could not get any opportunity to go to gujarat to campaign in the assembly election for the candidates of his own party––janata dal (united). nitish is well aware that his visit to gujarat may expose his weakness. he knows that he can not pull as much crowd in gujarat as narendra modi cam do in bihar. this is so notwithstanding the fact that there is a sizeable bihari population in gujarat and very small gujarati population in bihar.

not to speak of gujarat, nitish is well aware of the fact that his janata dal (united) failed miserably in neighbouring up in the assembly election held earlier this year. it could not open its account though there is a sizeable kurmi votes in that state and nitish campaigned in several places. he could not utilize the vacuum created by the death of apna dal leader, sone lal patel. apna dal is considered as a kurmi party in up. similarly in the 2009 assembly election in jharkhand the janata dal (united) performed disastrously––it won just two seats, when it had five seats earlier.

apart from gujarat election nitish perhaps thinks that by going to pakistan he would be earning the goodwill of muslims back home in bihar. he may be thinking so but politicians often takes things for granted. this can be understood from the way he made it a point to take his home secretary, amir subhani and chairman of the minority commission, naushad ahmad, to pakistn.

visit to pakistan––or for that matter any other country––never gets translated into votes and that too when there is no election round the corner. in the summer of 2011 nitish visited china, but what political or economic results it yielded is still not known. the trip soon slipped out from the mind of the people.

though the media is comparing his visit to the one undertaken by lalu prasad yadav way back in 2003 the truth is that the rjd supremo did not go to that country as the chief minister of bihar. lalu was a member of the multi-party delegation sent to pakistan by the then vajpayee government. ram vilas paswan too was in that delegation. nitish was then a union cabinet minister.

as the chief minister, nitish kumar may be going with some aims and objectives. whether bihar wants to improve its trade and commerce with pakistan or bring investment from there. whether there is any water dispute to be settled with it––there is no scope for that as pakistan is too far away. no detail is available yet. at present what is known is that he would be on the other side of gujarat for a week in november.