| | |
| --- | --- |
| | patna,(bihartimes): the janata dal (united) president, sharad yadav and bihar chief minister, nitish kumar, have once again spoken in different tones. this time it is on the issue of campaigning for assembly election in gujarat. |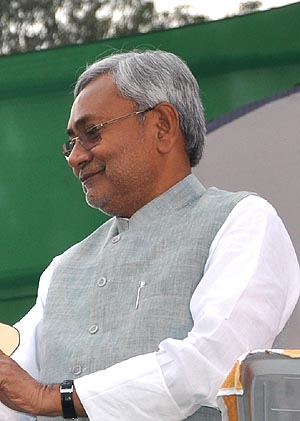 the party spokesman and incharge of gujarat, k c tyagi, on monday said in new delhi that nitish may go to campaign for the janata dal (united) candidates in the coming assembly election for gujarat.

on the same day sharad said that there is no alliance between janata dal (united) and bjp in gujarat and that his party would put up candidates there.

however nitish, while talking to newsmen in patna on the same day, repeatedly parried questions from newsmen on this issue. he said that he had a busy schedule all these months as he had to undertake sewa yatra and even go to pakistan.

political observers are of the view that nitish is not very keen to campaign in gujarat, where the janata dal (united) has hardly any support base. earlier, this year the party drew blank in neighbouring uttar pradesh, where janata dal (united) snapped its ties with the bjp and went alone. the party performed so badly notwithstanding the fact that there is a substantial kurmi vote in that state.

nitish said on monday that he had already got invitation from sind province in pakistan and at present he had no time to campaign in gujarat. he said he would also remain busy in the adhikar rally to be organized in patna in november.

the truth is that nitish is in no mood to confront his gujarat counterpart in the latter's home turf. he knows that while narendra modi can draw crowd in bihar and even attract votes for the saffron party, nitish himself can be of no help to his own party janata dal (united) in that state. in that way he would get exposed.

after all nitish did not allow narendra modi to campaign in bihar for this very reason.

though sharad yadav is the president of the party it is nitish kumar who often calls the shot. but sharad is also the national convenor of the national democratic alliance.

this is not the first time that the two leaders of the party have publicly disagreed. they spoke in different tones a couple of months back on the issue of bjp's prime ministerial candidate too.