patna, sep 19 (ians) in a rare political show, bihar chief minister nitish kumar took to the streets wednesday to demand a special category status for the state to hasten its development.
nitish kumar began his 'adhikar yatra '(rights march) from bettaih in west champaran district, aimed at drumming up mass support for a proposed rally in the state capital to demand special category status for the state.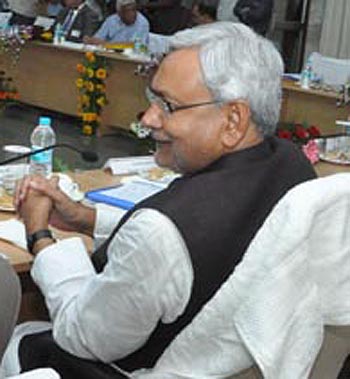 it will be the first mass rally of the ruling janata dal-united (jd-u) since it came to power in november 2005.

in his first public meeting at bettiah district headquarters, nitish kumar reiterated his demand, saying that it is high time the central government gave the state a special category status.

during his march, the chief minister will cover over two dozen district towns and hundreds of rural pockets to rally support.

"bihar should be accorded special category status for its development. we will fight for it," nitish said in his address.

west champaran is a significant venue since that is where mahatma gandhi had launched his first civil disobedience movement against the british rule.


nitish kumar said that bihar was lagging behind on several fronts and the pace of economic development will increase only if it got a special category status.

"bihar's per capita income and investment is lowest in the country. it lags behind in all human resource indices," he said.


comments powered by