patna,(bihartimes): students of government middle school, ramjichak, got first hand knowledge in harvesting the organic paddy from students of st xavier's college and a n college.
according to the press secretary taru mitra, kanchan pathak, the students are very excited as it is the first crop of the season.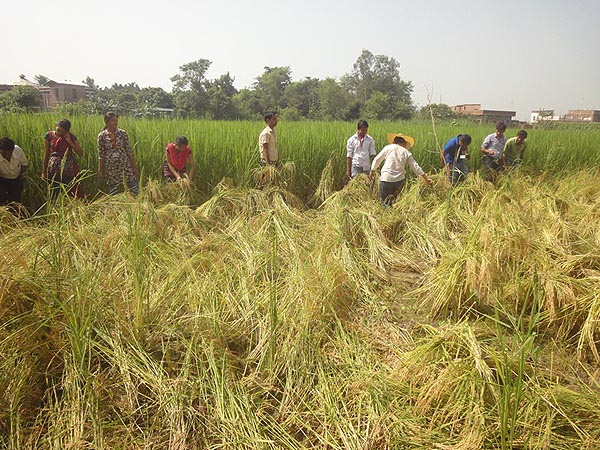 under the leadership of margaret molomoo and kanchan, taru mitra, cultivated the rare organic species of rice 'kalinga' at taru mitra biological reserve, digha.

kanchan said while the commonly cultivated rice varieties take a minimum of 90 days to ripe, kalinga took just about 60 days. "we found an average of 130 grains on every paddy leaf," said ghata, vikash and ravinder of a n college. the trio emphasized the fact that they did not use any chemical fertilizers or pesticides in the process of its cultivation.

"we did not have to irrigate the field since the paddy saplings received late monsoon water," said margaret.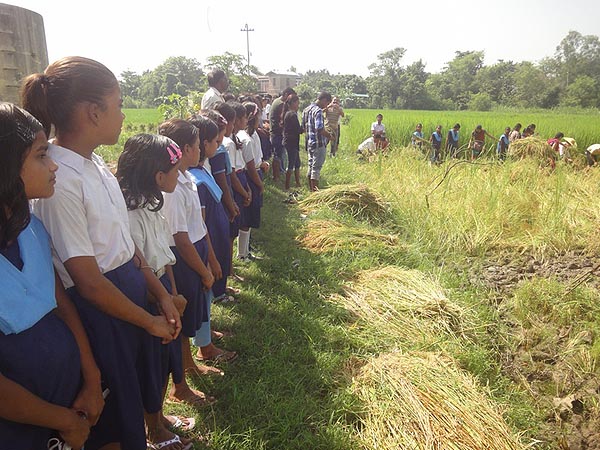 four students of a n college spent two months on planting and nurturing the paddy crop. "though kalinga is meant for upland cultivation, it fared well at patna and could be experimented further keeping in mind the late arrival of monsoon in the recent years," said margaret, who was trained in japan in organic farming. she said the late arrival of monsoon, even by a month, would not affect the crop.

two students from st xavier's college––ruchi and sangeeta––said they were deprived of the usual excitement associated with the harvesting since they have no cultivation at patna. "we were so happy to guide the smaller kids from the government school to harvest the paddy," they said.