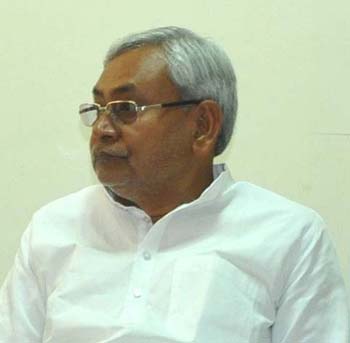 Patna,(BiharTimes): Coming close on the heels of the statements of Delhi BJP chief, Vijay Goel, and Patna Saheb MP, Shatrughan Sinha, Bihar chief minister Nitish Kumar on Monday further complicated the bitter struggle within the BJP by stating that Lal Krishna Advani is a respectable leader of the National Democratic Alliance.
Talking to reporters in Patna he, however, did not take the name of Gujarat chief minister, Narendra Modi, who is being backed by a section of the BJP as the prime ministerial candidate.
Instead Nitish chose to reply on Rahul Gandhi's perception that in the backdrop of the social, political, economic and other diversitites the country appeared like a beehive by saying: Honey has beneficial properties, therefore, it is good for health. There can not be production of honey without beehive. Bihar is the biggest producer of honey, he added.
He qualified his comment by saying in today's situation it is not proper to speak out.
Nitish announced that his party would meet on April 13 and 14 in Delhi to decide, among other things, whether to remain a member of the NDA.
The chief minister also said that the top leaders of his party would debate whether the NDA should announce the prime ministerial candidate before the national elections are held.