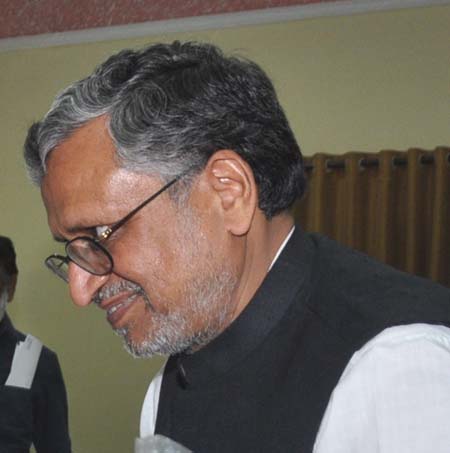 Patna,(BiharTimes): When a counter demand is gaining ground within BJP and some other constituents of NDA to project Lal Krishna Advani as the prime ministerial candidate Bihar deputy chief minister Sushil Kumar Modi has given enough signal that his party is prepared for Janata Dal (United) to carry out the threat of walking out of the alliance if Narendra Modi is projected as the prime ministerial candidate.
Reports coming out from the party suggest that Sushil Modi had recently told leaders and workers that the alliance in the state has benefited JD(U) as much as BJP. He also said plainly that the prime ministerial candidate of the alliance would be from BJP.
"The BJP-JD(U) alliance is there because both the parties felt the need for it. Both were benefited from the alliance," Sushil Modi was quoted as telling the partymen.
The reported change in stand of Sushil Modi––till recently a staunch supporter of Nitish Kumar––is a pointer to the fact that he is under intense pressure from party rank and file which is dead against Nitish Kumar and want to project Narendra Modi instead.
Party insiders are of the view that the leaders and workers are not opposed to Advani's candidature but they have thrown their weight behind the Gujarat chief minister because they are openly against their own chief minister. This would be a big headache for the central leadership of the party in the days to come.
Last year the then state unit chief and now the national vice president, Dr C P Thakur, went on record to state that the BJP is prepared to contest all 40 seats in Bihar in the 2014 Lok Sabha election. Now his arch-rival within the party, Sushil Modi, has dropped similar hint.
Political obsevers are of the view that if this really happens it would be a big blow to both the constituents of NDA, but Janata Dal (United) would be a much bigger sufferer as it is a one-man show and depends much on the BJP machinery for the electoral success.
Hitting out at Janata Dal (United) for inching towards Congress, Sushil Modi reportedly said alliances are forged between equal partners and not with a weak political party. He also exhorted his party workers to put up a good show in the coming elections.
Sushil Modi's stand is a significant departure from the past. Ever since last February he has repeatedly been contradicting his own chief minister. When Nitish lavished praise on P Chidambaram's Union Budget––obviously for political reason––his deputy strongly criticized it.