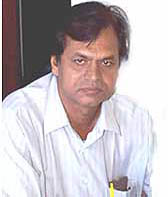 New Delhi, April 11: Amid speculation over who would be the the National Democratic Alliance's prime ministerial candidate, the Janata Dal-United, one of the constituents of the NDA, has said it has laid down "principles" in the matter.
"We have laid down principles: The candidate should have secular credentials, be able to take everyone along, and should be a votary of the rights of backward states," Janata Dal-United MP Ali Anwar Ansari told IANS.
He said the NDA would take a decision on its prime ministerial candidate, and the Bharatiya Janata Party, being its largest constituent, should propose a name.
"The final decision will be taken at a meeting of NDA," he said.
Ansari, who is the party's chief whip in the Rajya Sabha, said the constituents of the NDA would meet before an announcement of the prime ministerial candidate is made.
Sources said the party's national executive meeting, and the national convention of April 13-14 in the capital, would see discussion of the matter.
JD-U leaders were expected to ask the BJP to name its prime ministerial candidate, as there is a growing clamour within the ranks of the BJP to project Gujarat Chief Minister Narendra Modi as the coalition's prime minister candidate.
JD-U leader and Bihar Chief Minister Nitish Kumar has expressed grave reservations over Modi's candidature on account of the 2002 Gujarat riots, which occurred under his watch.
The JD-U is the largest constituent of the NDA after the BJP, with 20 members in the Lok Sabha. The party leads the government in Bihar, with the BJP as its junior partner.
Modi, in recent speeches, has indicated national ambitions, presenting Gujarat as a model for the rest of the country.