patna,(bihartimes): a day after the jantantra rally in patna anna hazare chose to attack the gujarat chief minister narendra modi, but not his bihar counterpart nitish kumar, though pointed questions were asked in a press conference on thursday.
when asked to comment on, what many say the bjp's prime ministerial candidate, narendra modi, he said the latter was not keen on making gujarat free of corruption.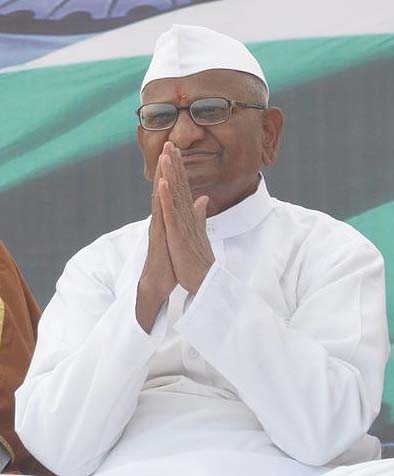 "why not narendra modi appointed lokaykt in gujarat and why he failed to make gujarat a corruption free state? it appears that modi is not willing to make india a corruption free country if he becomes the prime minister," was how hazare commented.
but he did not speak a single word on what type of lokayukt has been appointed in bihar. strangely, he remained silent on the issue though more than a year back when lokayukt law was enacted in bihar arvind kejriwal, then a prominent member of team anna, criticized it––although not very strongly.
but anna avoided even that much comment. in patna he was reminded more of the corruption in congress and absence of lokayukt in gujarat. he did not say anything on rampant corruption in bihar and weak institution of lokayukt here.
a few days before the rally he rang up nitish kumar to seek permission to hold rally in gandhi maidan. his lieutenant and the retired army general, v k singh, not only met the bihar chief minister but openly appreciated his government.
"how come team anna came to the conclusion of appreciating the bihar government when it is mired by corruption," was how a political observer, who wished not to be quoted asked.
others are of the view that anna lacks political sense. he was bold over by nitish kumar, as on the eve of the rally the latter appreciated his movement and openly welcomed his move to put up at jp's house in patna.
anna has, on a number of occasions in the past, played into the hands of canny politicians.