patna,(bihartimes): chief minister nitish kumar on friday unveiled the world's tallest bronze statue of mahatma gandhi at north-west end of patna's gandhi maidan.
speaking on the occasion, he said, the 72-feet-tall statue of the father of the nation is a tribute to all who love him and follow his ideals. he said gandhi showed the country how to lead a life of non-violence and today's youth should try to follow in his footsteps. language of love and non-violence can win more hearts than on the war front.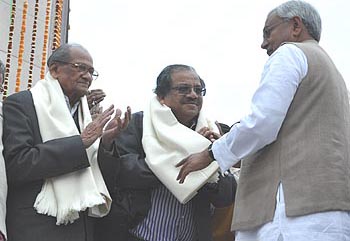 the state government had commissioned delhi-based sculptor anil sutar to make the statue. anil's father ram sutar is known for his art of making gandhi statue, which have been displayed and installed in more than 50 countries.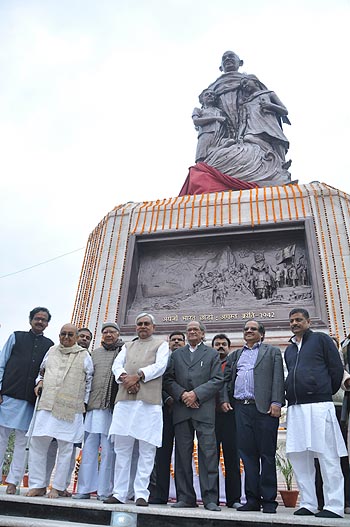 the bronze statue built at the cost of rs 10 crore was funded by the state government. with this, the parliament statue in new delhi where the father of the nation is in a meditating pose, becomes the second tallest gandhi statue with a height of 16 feet.
the statue is actually 40-feet-high, its pedestal is 24 feet high besides a staircase of eight feet. the building construction department (bcd) was the nodal agency to monitor the construction and installation of the statue.
two noted gandhians razi ahmad, director, gandhi sangrahalay, and tripurari sharan, chairperson, all india khadi gramodyog board––were also part of the planning committee.
state building construction department minister damodar rawat was also present at the inauguration function.