patna,(bihartimes): deputy chief minister sushil kumar modi said on tuesday that bihar had recorded a staggering growth rate of 11.95 per cent annually at constant prices during 11th five year plan. this figure is highest among states.

talking to the media after tabling the economic survey 2012-13 in the state assembly he said per capita income (nsdp at current price) of bihar is rs 25,653 as against rs 60,972 for all india in 2011-12.
modi, who also holds finance portfolio, said "the ratio of per capita income in bihar and india now stands at 42.1 per cent compared to 32.4 per cent in 2007-08."
(however, it is still lowest among all the states of the country.)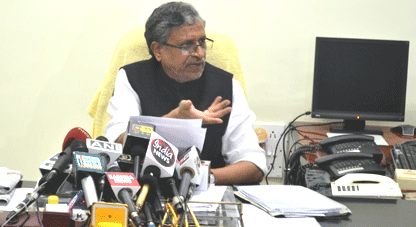 the deputy cm said the state witnessed impressive growth in all sectors. for example, the production of cereals in 2011-12 was 17.2 million tonnes compared to 10.4 million tonnes in 2010-11. production of rice increased to a new high of 8.2 million tonnes in 2011-12 against 3.1 million tonnes in 2010-11. the quantum jump in production is due to the use of new sri technique of rice production, he added.
he rejected the repeated criticism of opposition and some independent economists that all the figures are cooked up.
modi said micro, small and medium enterprises (msme) was doing very well in the state. bihar has a total of 1.92 lakh registered units under msme involving a total investment of rs 1,941 crore and employing 6.30 lakh persons in 2012, he said.
he also said that banks have disbursed 93 per cent loans to msme units in the financial year 2012-13 so far compared to 100 per cent in the last fiscal.
among other highlights, modi claimed the arrivals of foreign tourists into bihar has increased manifold over the years.
"one out of every six foreigners in india comes to bihar to visit historic sites. the number of foreign tourists recorded more than four fold increase in 2011 (7.95 lakh) over 2007 (1.77 lakh)," he added.
total road length in bihar works out to 1.40 lakh km of which length of rural roads is 1.23 lakh km.
though credit for most of the rural roads goes to pradhan mantri gram sadak yojana and national highways to the east-west corridor and golden quadrilateral projects of the centre the state finance minister said that under mukhyamantri setu nirman yojna, a total number of 3,140 bridges have been completed till date.
modi said by the end of 2011-12, bihar had around 46 million telephone connections of which mobile phones had a share of over 98 per cent, with private operators playing a big role.
in the health sector, total fertility rate (tfr) in bihar decreased from 4.2 children in 2006 (highest in the country) to 3.7 children in 2010, showing a drop of 0.5 per children.
the average number of patients visiting government hospitals per month has increased to 9,317 in 2011 from 3,077 in 2007. the bed occupancy rates have also risen considerably.. the credit once again largely goes to the central government's ambitious national rural health mission under which hundreds of crores of rupees are being pumped every year by the union health ministry.
in the field of education, the dropout rates at primary level decreased to 39.3 per cent in 2010-11 from 46.1 per cent in 2006-07. at the upper primary stage, it decreased to 55.1 per cent in 2010-11 from 61.8 per cent in 2006-07, the deputy cm said adding the sc and st dropout rates also decreased steadily.the state government had an outstanding debt of rs 4,475 crore in 2007-08 equalling 39 per cent of its gsdp. by 2011-12, the debt-gsdp metric had declined substantially to 24 per cent, he said.
the survey exposed some regional disparities among districts of the state in terms of development. while patna, nalanda and saran are relatively prosperous, khagaria, sheohar and lakhisarai are relatively backward.
meanwhile, commenting on the economic survey prof nawal kishore chaudhary said the figures given are of 2011-12 and not of 2012-13. there is stagnancy in farm and manufacturing sector.
besides, there are no dearth of experts who question the four fold jump in the foreign tourists to the state in the last five years. "it seems that the state government is now counting pilgrims as tourists, which is not good. there is hardly any scope for foreign tourists to visit bihar as there is no beach, no hill station and no other sight to attract them. foreign pilgrims have always been coming to bihar," one of them said.