| | |
| --- | --- |
| | patna,(bihartimes): deputy chief minister sushil kumar modi on thursday proposed substantial hike in cigarette and other tobacco products to generate additional revenue as he presented a revenue surplus budget––ninth in succession––for the state for the financial year 2013-14. |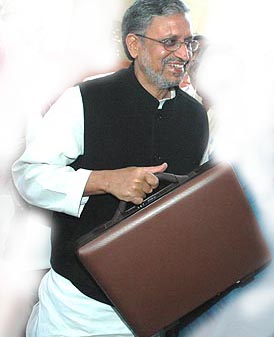 he said the state's total expenditure for the next fiscal has been fixed at rs 92,087.93 crore against the total receipts of rs 91,899,16 crore.the total expenditure of rs 92,087.93 crore is proposed to consist mainly of the state plan at rs 34,000 crore and non-plan estimates of rs 53,081.63 crore. it would also contain expenditure of rs 4,715.43 crore and rs 290.87 crore under centrally-sponsored schemes (css) and central plan scheme (cps) respectively, he said.
according to the budget the total expenditure would easily cross rs one lakh crore mark, if one includes an estimated expenditure of rs 10,000 crore transferred directly to various agencies by the centre for implementation of development and welfare programmes.
sushil modi, who is also the finance minister of the state, said as against the high expenditure target, the state government has proposed a receipt of rs 91,899.16 crore comprising total revenue receipt at rs 80,066.47 crore with its own tax revenue at rs 20,962.70 crore in the next financial year.
the state government has proposed to make borrowings of rs 11,819.41 crore from various financial institutions to meet the expenditure requirement.
he said the estimated revenue surplus of rs 6,808.85 crore was the salient feature of the budget as the fund would come in handsomely for undertaking new development projects.
the fiscal deficit of rs 8,769.45 crore was another feature of the budget proposals as the state government has targeted to peg the deficit at 2.79 per cent of gsdp that was well under the target set under the fiscal responsibility and budget management (frbm) act, which calls on the state to keep their fiscal deficit at up to three per cent of the gsdp.