Patna,(BiharTimes): While addressing Law graduates of Chanakya National Law University (CNLU) the Chief Justice of India (CJI) Altamas Kabir said on Saturday that they should be caring, compassionate and committed towards society.
He told them at the first convocation of CNLU that for him the SCC does not stand for Supreme Court cases but sincerity and sensitivity, caring, compassion and commitment. Combine it with integrity and you have a complete layer.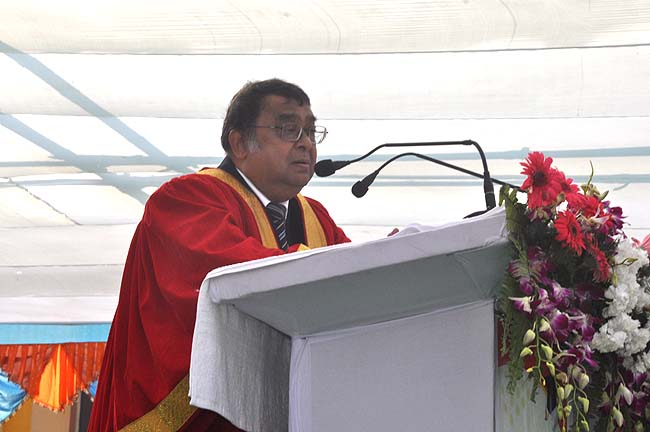 He emphasized, "what may be moral and right for an ordinary citizen may not be right for an advocate." He also referred to the attitudinal change in students who now take up lucrative career in law as a priority and not as a last resort. "I have interviewed students of CNLU and they could be the best competing with students of any other NLUs of India," he said.
Chief minister Nitish Kumar, who spoke on the occasion, highlighted the achievements made by CNLU in the last seven years.
Earlier, welcoming the guests CNLU vice-chancellor A Lakshminath said, it has signed a memorandum of understanding (MoU) with national and international universities for faculty and students exchange programme. Students have achieved significant success in seven years.
Also present on the occasion were chancellor and chief justice of Patna high court, Justice Rekha M Doshit, education minister P K Shahi, Padma Shri N R Madhav Menon and CNLU registrar S P Singh.
In all 171 students were awarded degrees. They included 80 students from BA LLB (honours) 2006-11 batch, 77 students BA LLB (honours) 2007-12 batch, 11 students of master's of Law and three PhD scholars. The PhD scholars of CNLU include Shweta Mohan, K K Dwivedi and Imotemsu. LLM students who were present on the occasion were: Bhuvaneshwar Rai, Indra Nath Jha, Ajay Kumar, Navin Kumar and Satish Kumar.
Speaking at a seminar organised by the coordination committee of three lawyers' association of the high court at A N Sinha Institute of Social Studies Justice Kabir stressed on the need for an alternative dispute resolution (ADR) scheme for quick disposal of around 3.5 crore cases pending in various courts across the country. "We can not stop cases from growing as population is increasing and so are litigations (cases). There will be arrears. So we need to have ADR through mega lok adalats or mediation process."
He said summary justice is no justice. Every person has right to be heard till the last moment.