| | |
| --- | --- |
| | patna,(bihartimes): union minister for communications and information technology kapil sibal said here on saturday that these days some people were asking reporters not to ask questions. |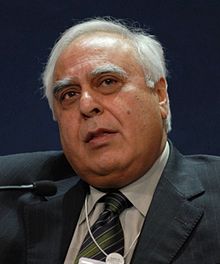 addressing a function organized by an urdu daily, hamara samaj, to commemorate the 56th death anniversary of india's first education minister, maulana abul kalam azad, he said during the freedom movement all top leaders like mahatma gandhi, jawaharlal nehru and maulana azad used to publish their articles in newspapers and magazines expressing their views on different topics of national importance.
referring to press censorship in some states he, without taking anyone's name, said today, some people are asking journalists not to ask questions. the audience burst into laughter as it was quite evident as to whom he was referring to.
sibal said both maulana azad and mahatma gandhi shared almost similar perception about education and added that the teaching of urdu should be linked to jobs to ensure prosperity of muslims.
stating that there is dearth of justice in india he said timely delivery of justice has become a rare things these days in the country. the system of justice delvery has become so much complicated that the people have to fight long drawn legal battle to prove their innocence.
he said the very foundation of judiciary has been weakened and everyone should be blamed for it.
recalling the contribution of maulana azad, especially in the field of education, sibal said, when he became hrd minister in 2009, he introduced vocational education only after being inspired by maulana azad's idea of vocational training. he said maulana had advocated the right to education for all children when he was country's education minister after independence. but he could not give the idea a concrete shape.
"i am happy that maulana's idea of right to education to all children took legal shape during my tenure as hrd minister," he added.
sibal also advocated for granting more autonomy to universities by the state governments as they are the places which generate idea. varsities should be given more freedom to ensure quality and excellence in higher education.
recalling the contribution of maulana azad union minister for minority affairs k rahman khan urged people to imbibe the philosophy of country's first education minister.
senior janata dal (united) leader and rajya sabha member shivanand tiwari presided over the conference.