| | |
| --- | --- |
| | New Delhi, Jan 27 (IANS) Gujarat Chief Minister Narendra Modi, a top contender as the BJP's prime ministerial nominee for the 2014 general elections, met the party's new president Rajnath Singh Sunday and held "detailed discussions" signifying his increasing national role. |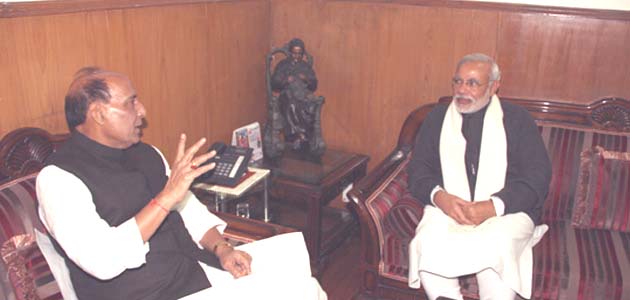 After the two-hour meeting, the two leaders said they mainly discussed the 2014 Lok Sabha elections, but refused to give any details.

"We sat together for a couple of hours and discussed Gujarat and the 2014 elections," Singh told reporters, adding: "The day I was elected party president, Narendra bhai called me and congratulated me. He said he would come to Delhi and meet me."

Singh refused to speak on Modi's role in 2014.


Modi, who visited Singh at his residence, said: "I sought his (Singh's) guidance for what more should the BJP do to serve the people in Gujarat and the people of India. We also had detailed discussions on the coming general elections."

Political commentator G.V.L. Narasimha Rao, who is involved with the BJP's poll reforms cell, described the meeting as the start of intensive preparations for the next Lok Sabha polls. He told IANS: "Consultations with Modi are significant as he has emerged as the most popular leader in the party in various opinion polls."

"Today's meet signifies that the BJP has begun intensive preparations for the 2014 polls and will work unitedly," Rao said.

The BJP described the meeting as a courtesy call.

"They are both party leaders so there is nothing special that they met. Modi met him (Rajnath) and congratulated him. In that context, they also talked about the 2014 polls," BJP spokesperson Nirmala Sitharaman told IANS.

Asked if the meeting had any connection to Modi being the party's potential prime ministerial candidate, Sitharaman said: "At the moment, its just that they met and talked about 2014. There is nothing more to it. Modi is a three-time chief minister of Gujarat. It was a courtesy call."

Singh, who was unanimously elected the BJP president Wednesday, replaced Nitin Gadkari, who had to let go of a second term at the last minute because of charges of financial irregularities in companies involved with Purti group, with which he has been associated.