patna, march 6 :thousands of agitating teachers on contract with the bihar government staged protests against chief minister nitish kumar across the state wednesday. they were protesting police action against earlier protests.

the contractual teachers said they would go on an indefinite strike.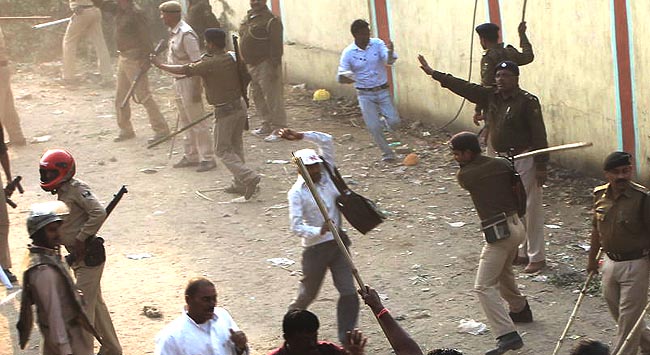 the protests came a day after nearly 50 fixed-pay teachers on contract, including women, were injured in police lathicharge here.

hundreds of teachers staged a protest at different places in patna wednesday to protest against the state government's repressive measures, and similar gathering occurred at district headquarters and at block levels.

puran kumar, a leader of protesting teachers, said that more than 50 protesters were arrested and booked under the indian penal code sections 147 (for rioting), 148 (rioting, armed with deadly weapon), 149 (related to unlawful assembly), 353 (assault or criminal force to deter public servant from discharge of his duty) and 307 (attempt to murder).

"we will not sit silent till our genuine demand of equal pay for equal work is met by the government," akhilesh kumar, the general secretary of the bihar rajya prathmik sikshak sangh (association of primary teachers in bihar) said.

kumar told ians that thousands of teachers on contract, who are paid much less than regular teaching staff appointed by the government, are up in arms against the apathy of the state government.

"now, it has become a matter of 'do or die' for us. teachers will strike work and boycott the upcoming matriculation exams," he said.

abhay kumar, another leader of the agitating teachers, said that the police action against peacefully protesting teachers had exposed the real face of the bihar government.

opposition legislators raised the issue of police action against teachers in the bihar assembly wednesday and announced their support for them.

"we have demanded a statement from the government on it," leader of opposition in the state assembly abdul bari siddiqui said.

about 2.5 lakh contractual teachers in bihar have been protesting, seeking pay at par with regular teachers, since last year.

last year, chief minister nitish kumar, unhappy with the protests, had declared that demands by contractual teachers for parity of salary with government teachers would not be met.
(ians)